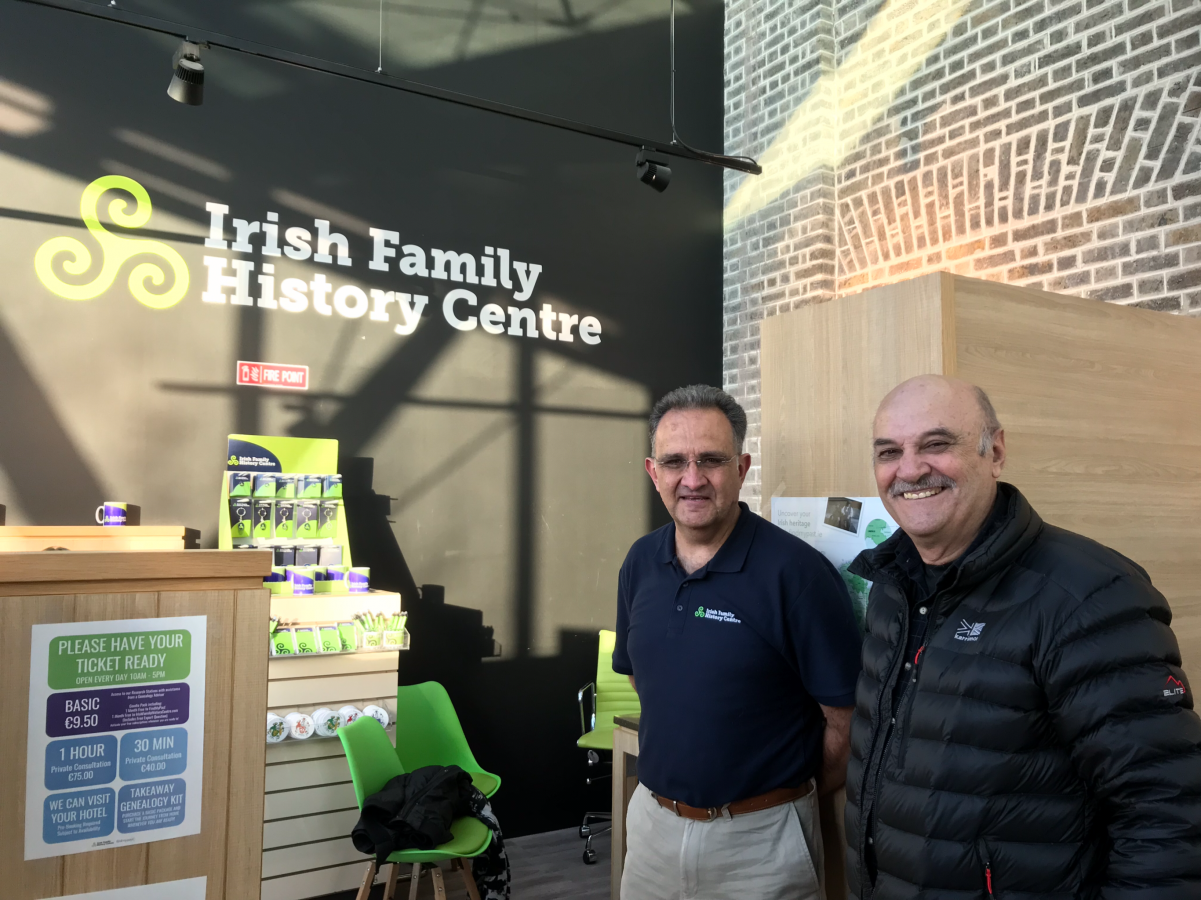 In early October 2017, I brought a lovely couple to the Irish Family History Centre (IFHC), Brenda and Pete, who live in Cape Town (South Africa) but who were born in Zimbabwe.
Pete is my husband's second cousin, and he and his wife were 'up' in the northern hemisphere visiting relatives in Dublin (Ireland). Their son, who is a talented jazz musician, had recently performed in Belfast (County Antrim) and at the Cork Jazz Festival. Both Brenda and Pete have Irish ancestry hailing from Counties Antrim, Kilkenny and Dublin. Brenda has been undertaking a lot of research on both her and her husband's side of the family over the last number of years, so, once they had paid a visit to EPIC: The Irish Emigration Museum, Brenda, in particular, was keen to visit us at the IFHC.
On duty that day at the IFHC was my work colleague Gerard, our Visitor Services and Retail Officer. Gerard, as it happens, was also born in Zimbabwe to an Irish father who himself is now living back in Ireland. As Pete and Gerard swapped details of their family history and stories of Zimbabwe they discovered something astonishing – not only had both their respective fathers had been policemen but Pete immediately recognised the name of Gerard's father. Then both Pete and Gerard realised that both their respective fathers had worked together in Zimbabwe back in the 1950s. You could have knocked them over with a feather when that particular penny dropped. Gerard spoke to his father later that evening who confirmed that he had indeed known Pete's Dad and Mom and commented that Pete's Dad was a wizard at fingerprinting.
Which means there is a highly unforeseen connection between myself and work colleague Gerard – Gerard's father knew and worked with my husband's first cousin once removed in Zimbabwe! This is one story that we'll be talking about for some considerable time to come.
By Maura Flood