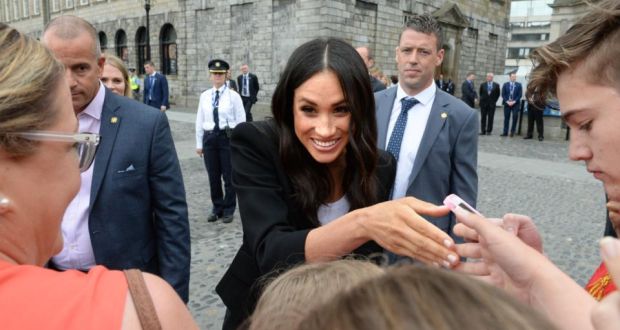 Meghan Markle received research from the Irish Family History Centre while visiting Dublin last week. Photograph: Cyril Byrne/The Irish Times
John FitzGerald Kennedy was raised to take pride in his Irish roots. In August 1947, the newly elected congressman stayed at Lismore Castle in Co Waterford, and visited cousins in Dunganstown in Co Wexford. "The visit to that cottage was filled with magic," he wrote.
In advance of the Obama family's visit to Ireland in 2013, Michelle Obama asked us at Eneclann (now the Irish Family History Centre) to present then president Barack Obama's Irish family history to their daughters. She had one request for the presentation, "no screens", something any parent of teenagers will get, and which makes the Obama family all the more relatable.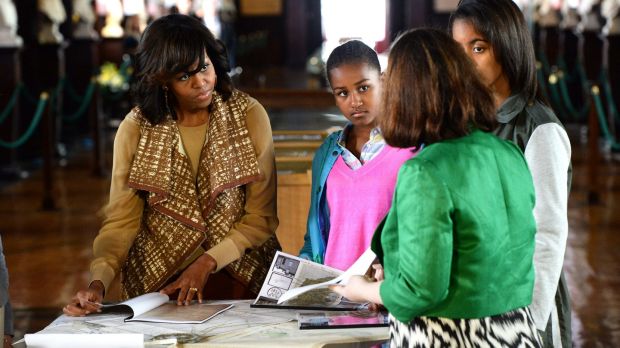 Michelle Obama with her daughters, Sasha and Malia, listening to Fiona Fitzsimons as she told them about the Obama's Irish ancestry in 2013. Photograph: Cyril Byrne / The Irish Times
Margaret Sinclair Trudeau, mother of the current Canadian prime minister Justin Trudeau, traced her Irish ancestry a decade ago. She knew the family were Irish, living in 19th century India, but hadn't been able to identify where they were from in Ireland. We bridged the divide and presented the family history to Mr Trudeau on his visit here in 2017.
JFK was before my time, but I researched the family history of the Obamas and Trudeaus, among many other visitors. All of them wanted to know more about their Irish ancestry, to better understand their families and themselves. Genealogy is about personal identity, not ethnicity. It's the ultimate "democratisation" of history, giving equal billing to women, when done properly. It's based on the simple but powerful premise that each and every person has a story worth knowing.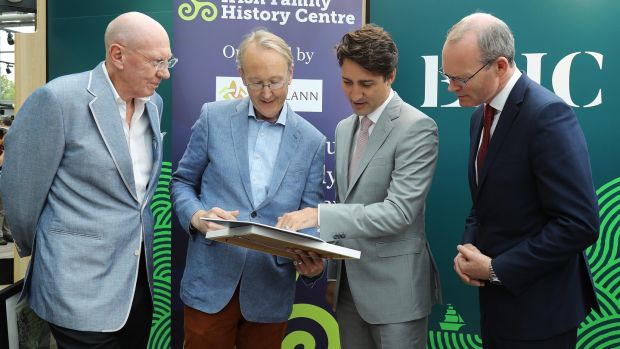 From left, Neville Isdell, chairman of chq Dublin and founder of Epic, Brian Donovan, Eneclann, Canadian prime minister Justin Trudeau and Tánaiste Simon Coveney.
In an article entitled 'How Irish is Meghan Markle? Does it really Matter?'published in Irish Times Abroad last week, Professor Catherine Nash posed the question, is Ireland's Cead Míle Fáilte for well-known visitors only for those with Irish heritage? She answers yes to her own question, and further argues that this sends out the message that only those with Irish ancestry can appreciate Irish culture or history.
Meghan Markle, who visited Dublin last week, has publicly embraced a blended heritage that includes Irish ancestry. The duchess is descended from the mixed-marriage in 1860 of a Belfast Catholic and English Protestant. The couple won the "army-wives lottery" and secured permission to marry in Donnybrook Church. Shortly after, they left Ireland for Malta and later Canada. Their family narrative fits within the military diaspora, one of the oldest emigration stories from Ireland.
The Irish Family History Centre is in Ireland, and we identify as "Irish". But we also use our research skills to trace the European heritage of other nationalities, including that of our British neighbours, mainland and eastern Europeans, recently including for example Jewish families from Poland and Lithuania.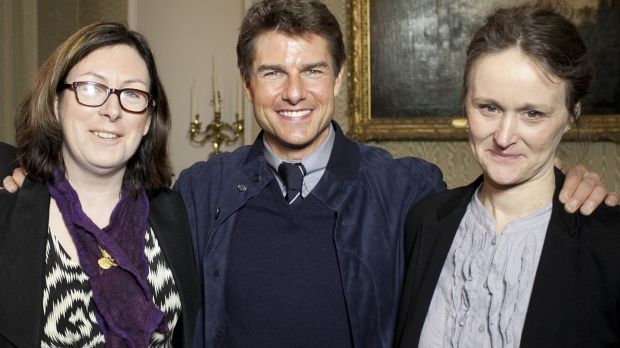 From left, Fiona Fitzsimons, director of Eneclann and the Irish Family History Centre, actor Tom Cruise, and Helen Moss, senior researcher, Eneclann. Photograph: Fennell Photography
In our Irish immigration digital exhibit, we show the history of settlement of Ireland by many different peoples, from the earliest settlers 9,000 years ago to the Celtic (La Tène) culture in the fourth century BC, Vikings, Normans, English and Flemish settlers, Scots Mercenaries.
In the early modern era (late 15th to late 17th centuries), religious refugees from the European Continent and the British Isles came to Ireland, to enjoy greater religious freedom – Iberian Jews, English Catholics and Quakers, Scots Dissenters, French Huguenots, and German Palatines. For many, Ireland was only a temporary stopping-off point on a longer journey west. Even so, the exhibition shows a more diverse, pluralist Irish society than is often represented. It reminds us that identity is not fixed, and changes over time.
In the 19th and 20th centuries, Jewish, Belgian and German refugees fleeing totalitarian regimes settled in Ireland. Our exhibition brings the story up to 2008 when the booming Irish economy resulted in net inward migration, of over half a million people. ESRI Economist John FitzGerald wrote of this last wave of immigration in The Irish Times last week.Earlier immigration to Ireland was smaller in scale and is probably only of interest now to historians, not economists. But these immigrants and their descendants made a lasting contribution to Irish culture and society.
This is only one exhibition in our visitor centre, and represents a portion of what we do to make family history more accessible and relevant to all visitors. We're currently looking for funding to develop a Traveller family history project, in partnership with the Meath Traveller Network and the Royal College of Surgeons Ireland.
To see the full extent of the events and activities we offer, to make family history available to as wide an audience as possible, visit the Irish Family History Centre website.
From the educational workshops for schools linked to the curriculum; the monthly expert workshops, hosted by the Royal Irish Academy, Dawson St. – recent highlights include Rev. Canon Professor Patrick Comerford on Church records, and Mr. Michael McDonagh on Irish Traveller History, podcasts are online; our Genealogy Courses (Introduction & Intermediate) taught over two semesters in Trinity College; or read Irish Lives Remembered, our free online quarterly magazine which has articles, even entire editions dedicated to showing a more diverse and inclusive social history of Ireland.
By Fiona Fitzsimons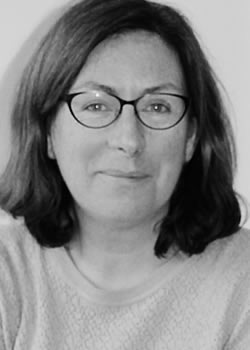 ___