APG member Melissa Johnson will be leading a track on Elements of Genealogical Writing, Editing, and Publishing, at the 15th annual British Institute in Salt Lake City this September. Fiona Fitzsimons caught up with Melissa for an interview on her life as a genealogist, and to ask her what she is most looking forward to at the event this September.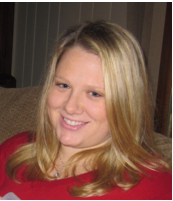 Q: How long have you been a genealogist, and how did you get started in genealogy?
A: I started taking clients about 9 years ago, but I've been interested in genealogy since I was about 9 years old. My paternal grandfather showed an interest just a few years before he died. His mother died when he was fairly young, and he was mainly interested in her Irish family lines.
After I finished college, I was working full time at a public relations firm in New York City. The local APG chapter had meetings near my office, and I started attending. I had taken a few clients by then, but after attending APG meetings, conferences and institutes, I started taking more clients.  I've found that networking with other professionals is very important—a large majority of my work comes from referrals or from working with my colleagues directly. (Melissa now owns a public relations firm in New York City, and does about 80% genealogy work and 20% public relations work. Her firm works mainly in the architecture, construction, and engineering industries, so she gets to work in two worlds that don't have much overlap. She really enjoys both, and says she will keep working at both.)
Q: What do you enjoy most about being a professional genealogist?
A: I enjoy integrating writing with genealogy. Anything I research for my own family will be written up in some format one day—a book, article, blog post, etc. I enjoy the quiet and individual thinking that comes along with writing. Typically, the actual task of writing is fairly easy for me once I start, because I've done so much thinking and preparing in advance that I already know what I want to say and how I want to say it.
Q: What is your area of specialisation?
A: I primarily research New Jersey and New York City families from the Colonial period to the present. I also do English research, typically on families from London. My Johnson line came into New Jersey in 1666—and I descend from many of the founders of Newark.
For early New Jersey research, the key records are those of the East and West Jersey proprietors—especially land records. For many of the New Jersey families I've researched, it's not the church records but the land and probate records that connect generations.
Imagination is important with colonial research. You have to understand why the family was living in a certain location—how their occupations, politics, ethnicity, religion, and other factors played a role in why they settled in a particular location. Most importantly, you have to know who their associates were.
Q: Can you give us one genealogy tip you would always recommend?
A: Write up your research. It's only when you start writing that you'll see where the holes are in your work. You may realise that there's a chunk of time you can't account for, or that you overlooked important sources.
Q: What are you most looking forward to about attending the British Institute in SLC in September?
A: I'm really looking forward to being a hands-on instructor. My course, Elements of Genealogical Writing, Editing, and Publishing, incorporates group activities and interaction among students to facilitate learning. Writing is best learned by practice and by trial and error. Students will learn from others and from themselves. Individual assignments will also challenge students to write about their own families.
Q:  You will be leading one of the tracks at the event.  Can you tell us a little about your course?
A: Elements of Genealogical Writing, Editing, and Publishing is a new course that will be different from other genealogical writing-courses out there (most of which I've attended, and found excellent). I have incorporated new concepts and new uses for technology. In genealogy, there are many different kinds of writing: narratives, proof arguments, biographies, etc. Students will learn how to write in both argumentative and narrative formats. We will cover how to incorporate historical context to make those family narratives more interesting to non-genealogists, and we'll also cover how to write proof arguments and case studies. We're also going to talk about specific genealogical publications, and the types of articles they publish. There are many different genres of genealogical works, and it's important for writers to understand what is out there.
Q:  What can people expect to learn from your course?
A: I want to show the importance of preparation in genealogical writing. We're going to go over ways to plan and outline writing projects so that the actual task of writing becomes easy. Writing is like painting a room—most of the hard work goes into the preparation. If you prepare well, the rest of it is easy.
Elements of Genealogical Writing, Editing, and Publishing at the British Institute is a full-day course. (The ethnic tracks are each half-day tracks that incorporate library time and instructor consultations.) The course will have a British focus, but anyone can benefit from it—the concepts will apply to writing about families of all ethnicities.