In early December 2017, a tall, moderately elderly man from Dublin's inner city – we'll call him 'Dermot' – came in to the Irish Family History Centre (CHQ Building, Dublin, Ireland). He wanted to "have a word" with us. This sounded ominous.
Earlier in the year, Dermot had come in, not to do genealogy, but to buy a DNA kit (something we sell third-party at the centre). It was an autosomal DNA kit, and I vaguely recalled selling it to him. I had told him, as I tell everyone, that the test would give a breakdown of his ethnic background and that it would pick up living descendants (i.e. those who have also tested and who are on the same DNA database) of ancestors on both sides of his family going back about 5 generations.
Dermot had done the test and it had revealed that he was Irish with some mix of British. This, he now informed me, he already knew, and he felt like he had wasted almost €100. Dermot said that he had been expecting a more detailed, perhaps Irish county-level, analysis, and told me, "I took your name in vain and cursed you to the heavens and back – for three months!"
However, he had decided that, after spending all this money, maybe he had better enquire as to what to do next. And this was why he had come back in to "have a word." So, I told him in more detail about what could be done with the results: how to link up with other people with whom he had been given matches; that he now needed to do some actual genealogy on his own family and see how this might match up with the genealogies of his DNA matches; how he could download the raw DNA data and put it into other web sites to see what analysis that might show up; and that his DNA results would act as a legacy that his children and grandchildren could build upon, including more advanced things such as finding out the actual percentages of their own parents' and grandparents' DNA that was in them.
After having explained the situation, that he hadn't wasted his money, and that he now needed to do follow-up genealogy, Dermot was a happy man. He vigorously shook my hand and said that he had really enjoyed an excellent conversation with me. He then went off to meet his grandson who was working at a doughnut stall in the Christmas market right next to the CHQ building.
And about an hour later, as I was peering out of the IFHC window at the shoppers in the Christmas market, I heard a young man's voice behind me ask fellow IFHC staff member Gerard, "I'm looking for a Patrick Roycroft … I have something for him." I turned around and Dermot's grandson politely introduced himself. Smiling, he then presented me with a big box of four luxury doughnuts from his stall, Aungier Danger, as a Thank You for the help I had given his grandfather.
I was genuinely taken aback. Then I felt very happy. Mostly, I was happy because Dermot was now happy. And the doughnuts were delicious!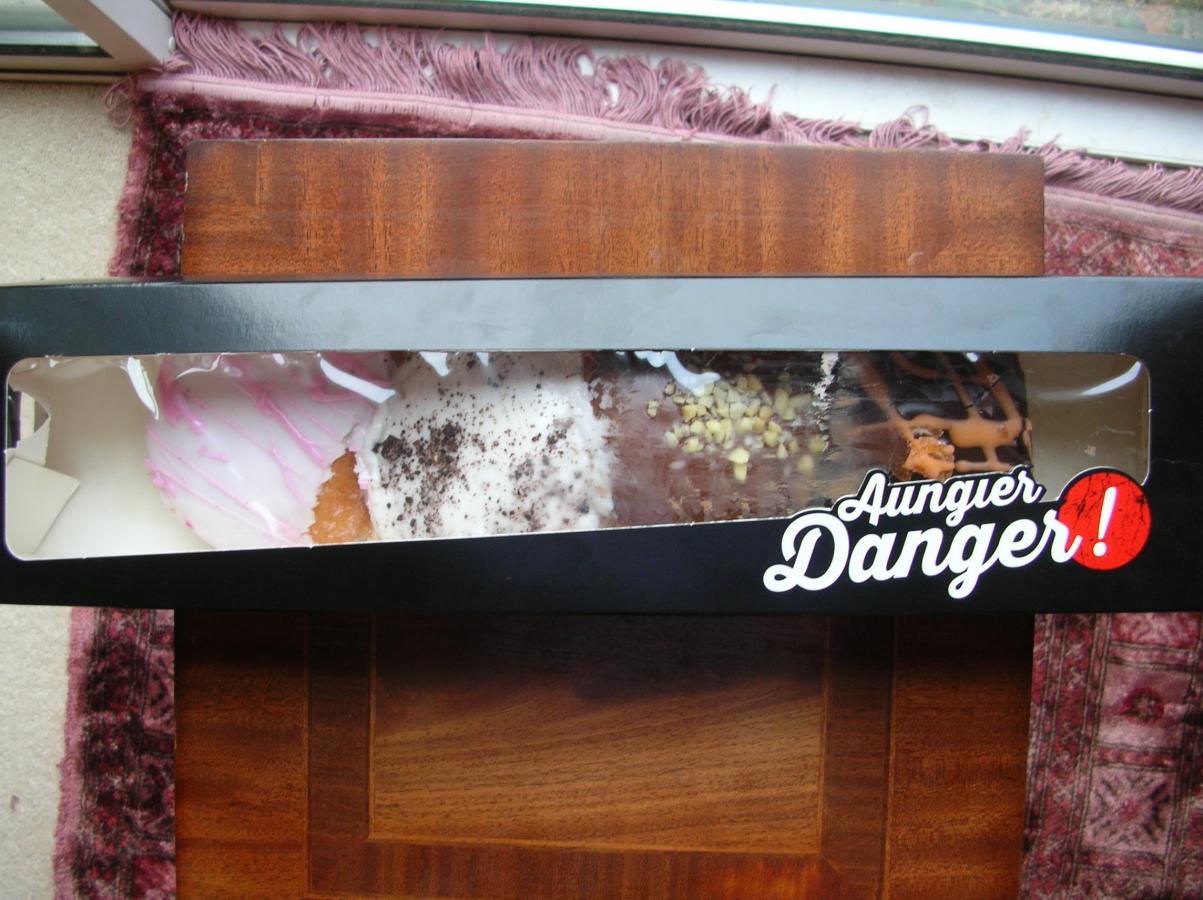 The box of four luxury doughnuts given to me by Aungier Danger Doughnuts … after I had got them back home. Photo: Patrick Roycroft.
By Patrick Roycroft
* We would like to advise that we are currently reviewing the kits sold at the Centre