Commissioned and Presented by Meath County Council Arts Office supported by the Irish Arts Center New York.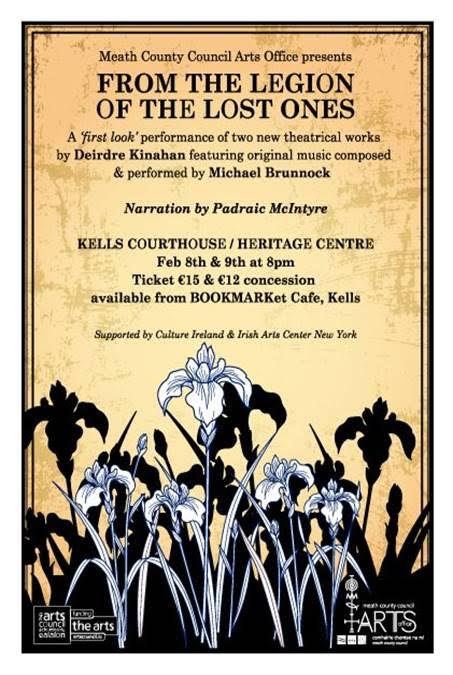 Come join us at the Heritage Centre Kells on February 8th and 9th 2017 to support the collaboration of two celebrated Meath artists, Michael Brunnock and Deirdre Kinahan and view the very beginnings of two new theatrical works featuring original music.
From the Legion of the Lost One's opens a window into the lives of two lost Irish citizens: Ettie Steinberg  the only Irish woman known to have died in the Holocaust and Michael Doyle, a fictional character inspired by the stories of the Irish born British army P.O.W's who signed up to Roger Casement's Irish Brigade in 1915.
Michael & Deirdre will be joined by the extraordinary local actor Padraic MycIntyre, and musicians Rob Graham and Mick McAuley in this very special 'first look' performance exclusive to a Meath audience.
The Evening will consist of theatrical readings and a selection of specially commissioned songs.
Deirdre is the award winning author of plays including MOMENT, BOGBOY, HALCYON DAYS and WILD SKY which have played at theatres nationally and internationally.   Recently elected to the prestigious Irish cultural group Aos Dána, her plays are translated into many languages and published by Nick Hern Books.
"A ferociously funny and unexpectedly shattering writer' London Metro on MOMENT.
Michael's musical career has taken him to annual tours of the US, Germany and Ireland.
Through a collaboration with David Byrne (Talking Heads) on a soundtrack to "This Must Be The Place" starring Sean Penn , Michael went on to win and Italian Oscar (Di Donatello) for 'If it falls", in the best original song category 2012.
"Michael Brunnock's voice simply soars. His performances and song
writing absolutely wowed our audiences in Boston. I am keenly awaiting
more from this intriguing artist." – Brian O'Donovan, 89.7 WGBH, Boston's
NPR Station.
From the Legions of the Lost Ones takes place at Kells Courthouse/Heritage Centre, Wednesday 8th and Thursday 9th February at 8pm. Tickets are available from the BOOKMARKet Cafe, Kells.