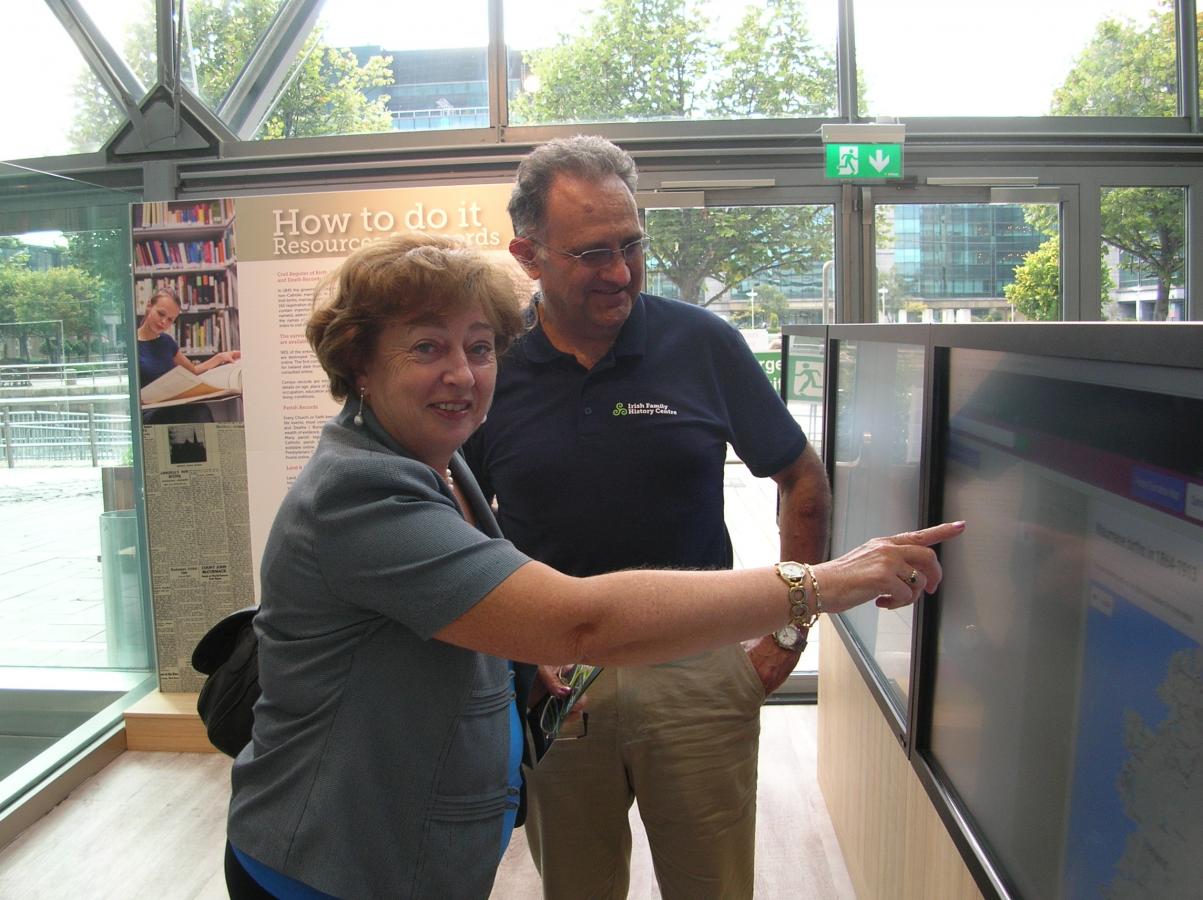 Catherine Murphy (TD) with IFHC staff member Gerard Leen, Photo: Patrick Roycroft.
Being at the forefront of public-oriented walk-in genealogical services in Ireland, the Irish Family History Centre (CHQ Building, Dublin) attracts both curious professional genealogists and those with an eye on the bigger picture of genealogy in Ireland. Among this latter group is the redoubtable and genealogically passionate politician Catherine Murphy TD ['TD' meaning Teachta Dála, the Irish equivalent of 'MP' (Member of Parliament)].
Catherine has been trying to coordinate and standardise Irish government policy on all major aspects of Irish genealogy for some time. She authored a 48-page report for the Irish government's Joint Committee on Environment, Culture and the Gaeltacht: the Report of the Joint Committee on Maximising our Cultural and Genealogical Heritage (March 2015). This report is freely downloadable here. For anyone interested in the wider issues of Irish genealogy it is a must-read.
The IFHC received a phone call at around 16:00 on Thursday 31 August 2017 to say that Catherine would be dropping in at 16:30 to see what the IFHC offers the public and how we go about our services. No problem! She was escorted in by a member of staff from EPIC: The Irish Emigration Museum, and then myself and colleague Gerard Leen gave her a summary of what we do, how we operate, and offered a quick demonstration of what a customer can expect to enjoy while at the IFHC. We also asked her some pertinent questions about genealogy policy issues, which she happily elaborated on.
Catherine left in a flurry of handshakes and smiles. Hopefully, she has a better idea of what is happening regarding commercial, public, walk-in genealogy services – something that didn't exist two years ago when she wrote her 2015 genealogical report for the government. While there is still much to do in terms of coordinating policy, the IFHC is a demonstration of how things are inexorably moving forward.
By Patrick Roycroft