Harry Clarke's Unique Gift to Former Archbishop of Dublin
Archive of the Month March 2017
www.ireland.anglican.org/library/archive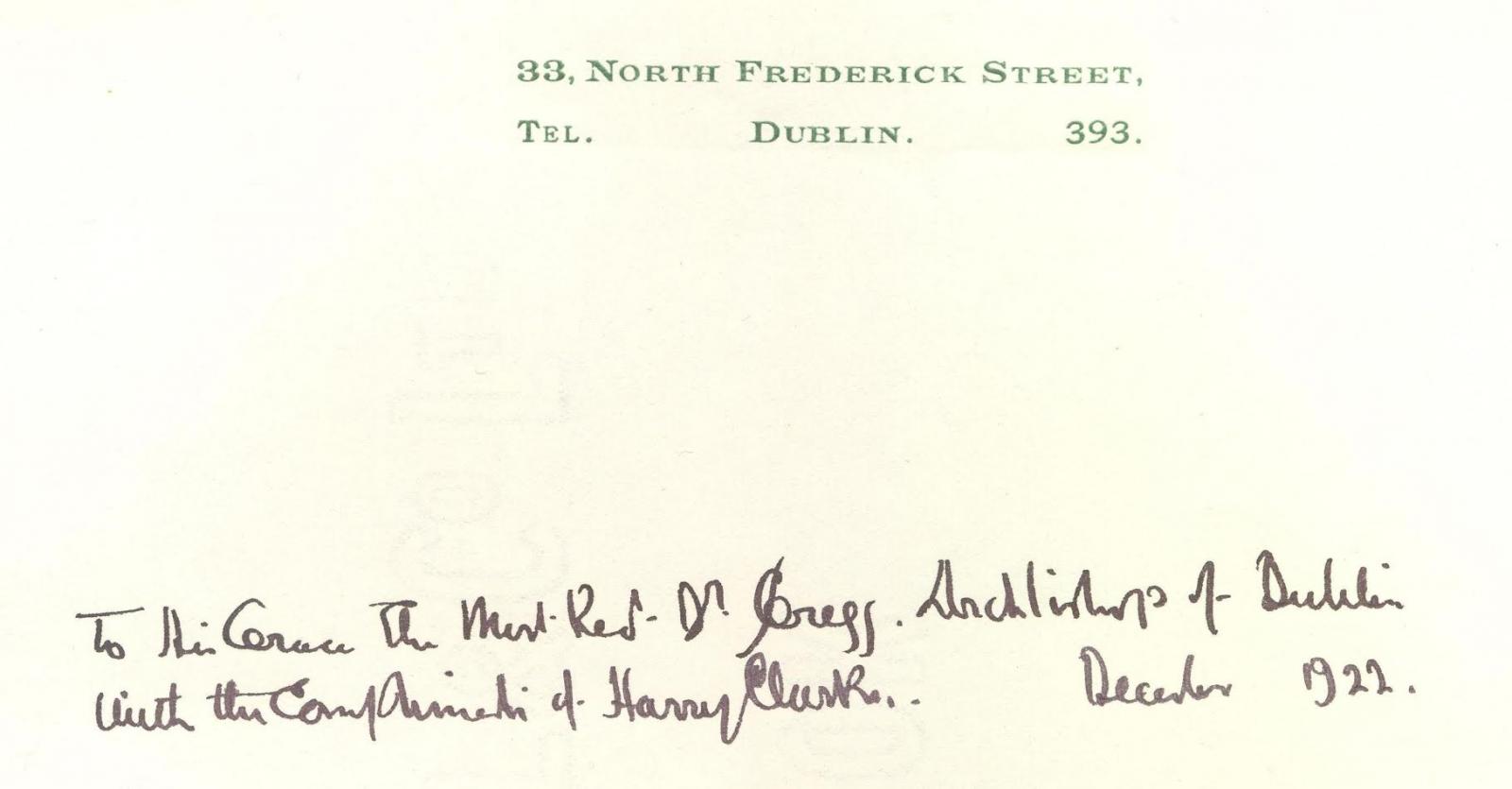 The fusion between books and archives is brought to life in the latest online Archive of the Month presentation from the RCB Library, the Church of Ireland's library and archive repository. In time for spring, the unique gift given to the former Archbishop of Dublin, The Most Revd Dr John Gregg (1873-1961) who was archbishop from 1920 to 1939, by renowned stained-glass artist Harry Clarke (1889-1931) is the focused item.  
The gift, personally inscribed by Clarke on the half-title page with his compliments to the archbishop, in December 1922, is a limited edition volume of the collection of poems entitled The Year's at the Spring for which Clarke was illustrator. Published by George G. Harrap in September 1920, the book's print-run was limited to just 250 copies, of which Gregg's was number 50.
Harry Clarke was best known as a stained-glass artist, with his work being displayed in religious and secular places throughout Ireland and, indeed, the world. Visitors to Dublin will be familiar with Clarke from his 1928 work in Bewley's Oriental Café, with windows depicting the Corinthian, Doric, Ionic and Composite orders of architecture. Clarke's art was not limited to the secular, and he carried out many commissions for the Christian Churches, all of which from a Church of Ireland perspective are imaged, catalogued, and available on a  free-to-view basis together with stained glass throughout the island here: www.gloine.ie
Clarke had been working on numerous stained-glass commissions for the Church of Ireland during the late 1910s and 1920s which may explain his personal connection with Gregg. These include his work for St Barrahane's in Castletownsend, Co. Cork (1918, 1921, and 1926), Christ Church in Gorey, Co. Wicklow (1922), and St Patrick's in Carnalway, Harristown, Co. Kildare (1921), as well as Holy Trinity in Killiney, Co. Dublin (1919), Eneriley and Kilbride Church near Arklow, Co. Wexford (1924), Sandford Parish Church in Ranelagh, Co. Dublin (1927) and St Brigid's in Castleknock, also Co. Dublin (1928), all of which were located in Gregg's own Dioceses of Dublin and Glendalough.
Clarke's stunning originality as a stained-glass artist extended to other media, but what is often forgotten is the fact that he was also an accomplished book illustrator. Indeed, there are many similarities in his style in both art forms, and this is perhaps fitting, as his book illustrations and his work on stained-glass are examples of two-dimensional art focused on the telling of a story.
The current online exhibition, which has been put together by Assistant Librarian Bryan Whelan, tells the story this particular unique and rare volume, which is just one of more than 60,000 volumes of printed books held in the Representative Church Body Library. Many of these volumes have come into its safe custody from members of the Church of Ireland laity, clergy and bishops. The bibliographic records of most of these books are now catalogued and accessible to a worldwide audience through the online printed books catalogue available here: www.ireland.anglican.org/about/rcb-library/catalogues/printed-books
Note to editors
Captions:
Clarke's illustration accompanying Walter de la Mare's 'Arabia' showing the 'demi-silked, dark-haired musicians', from The Year's at the Spring, RCB Library Special Reserve Collection.
Personal inscription to Archbishop Gregg from Harry Clarke, dated December 1922, for the archbishop's presentation copy (number 50 of the limited run) as it appears in the volume in the RCB Library Special Reserve Collection.
For further information on the Library, please contact: