Some of you may have considered putting your ancestor's name on the American Immigrant Wall of Honor that is now part of the Ellis Island National Museum of Immigration in New York (USA).  The wall overlooks Lower Manhattan in the shadow of the Statue of Liberty.  It is a permanent exhibit comprising over 700,000 names and is the only place in the US where you can honour your immigrant, regardless of ethnicity, year of arrival, point of entry, or mode of travel.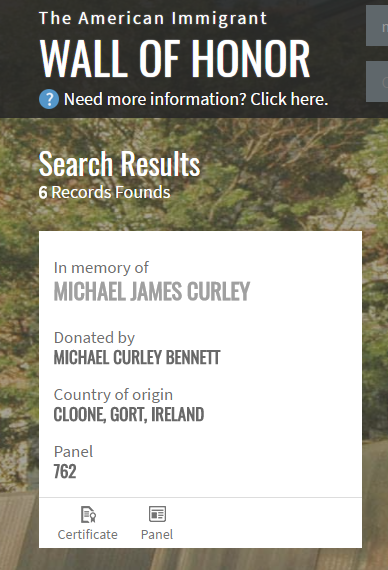 You can add a name by going to the Liberty Ellis Island Foundation website.  The cost to add a name is $150, but your donation helps to restore and maintain Ellis Island. When your application is received your immigrant is listed on the database and you will receive a certificate, which you can frame. The country of origin does not appear on the wall itself but is shown in the Certificate of Registration and in the database.
If you wish to have your immigrant so honoured, it is very important to consider how your ancestor will be recognised on the wall by future generations.  Only giving the country of origin (e.g. "Ireland") is not that helpful – be more specific!  Include the townland or the street in Ireland with the nearest town.  A townland is the smallest geographical division of land used in rural Ireland.  My own example here gives the townland of Cloone, but there are 17 townlands of Cloon/Cloone in Ireland, four of which are in County Galway.  My ancestor came from new Gort (Galway), so by including the town of Gort, this now distinguishes my listing from other Michael Curleys in the database and any future descendants will be in no doubt when searching online or viewing his name on the Wall of Honour itself that they have found the right ancestor.
There is also the equivalent Welcome Wall in Sydney (Australia) where an immigrant's descendants can also contribute a brief (150-word) story about the person being honoured.