Having worked with submarines for almost 10 years, Rickard was a trained engineer –the repair and maintenance of submarine engines was an essential skill. Consequently after he left the navy, Rickard was hired by William Beardmore & Co. engineering and shipbuilding, where he worked in the Naval Construction Yard on the Clyde in Scotland.
One of the main projects he now worked on was the development of a new diesel engine, which was cleaner and more efficient. One of the consequences of this new engine when applied to submarines, was that the quality of air circulated aboard ship or in submarines improved hugely, and this was a significant technological development in the period between the two world wars. However, after the 1929 crash and the Depression, Rickard was let go by Beardmores.
During the Depression, Rickard undertook many jobs to provide for his family, including selling china door-to-door in London. But his main priority was to get a job that would bring him back home to Ireland. In the 1930s, he requested assistance from the Admiralty to find him work in Ireland. In 1937 he joined the London & Thames Haven Oil Company, and played a key role in setting up the Irish National Refineries. This was a plan to build a major oil refinery in Dublin Bay. Unfortunately the oil majors got wind of this and fearing for their position, bought out the fledgling company and closed it down. Although we know less about this aspect of his career he seems to have made an impression on this community, as his R.N. service records specifically mention his 'considerable experience in business ashore' and his oil contacts, as being important in his wartime role with the Navy. [TNA, ADM 340/242]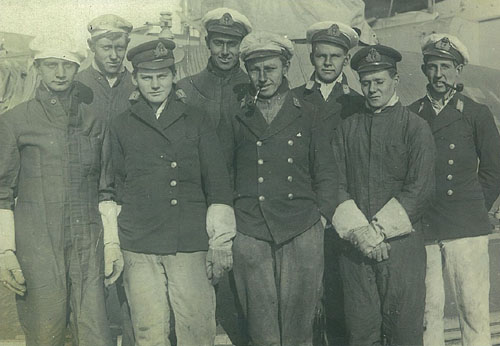 Rickard Donovan pictured on the far right smoking his pipe, with his colleagues on a submarine.