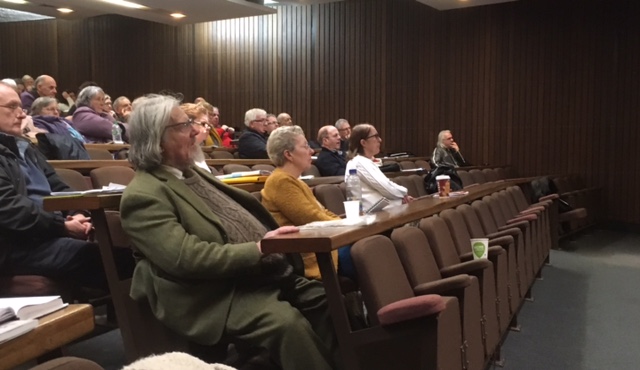 Genealogists attending the seminar in Cork
Wednesday 6th December saw genealogists gather at University College Cork, for the eagerly anticipated seminar Irish Surnames and Sources: What about the evidence and how to use it. The title was coined by our own Fiona Fitzsimons, one of the expert speakers on the day.
There were six speakers, Kenneth Nicholls, world famous Historian and Genealogist, Fiona Fitzsimons, Paul MacCotter, Michael Christopher Keane, David Ryan and Lorna Moloney. The titles of the papers were as follows:
Lorna Moloney: Mapping the O'Brien and MacNamara Gaelic Lordship: Material evidence explored
Michael Christopher Keane: The Transplantation of the Seven Septs of Laois to Kerry and the Continuing Presence of their Descendants in North Kerry.
Kenneth Nicholls: Surnames, Deceptive and Protean
Fiona Fitzsimons: What's left in the Record: using Parish Registers for Family and Social History
Paul MacCotter: Archives and Manuscripts, how to use them in Genealogy
David Ryan: How to trace your Cork ancestors
The sources highlighted by the expert speakers were fascinating and so available.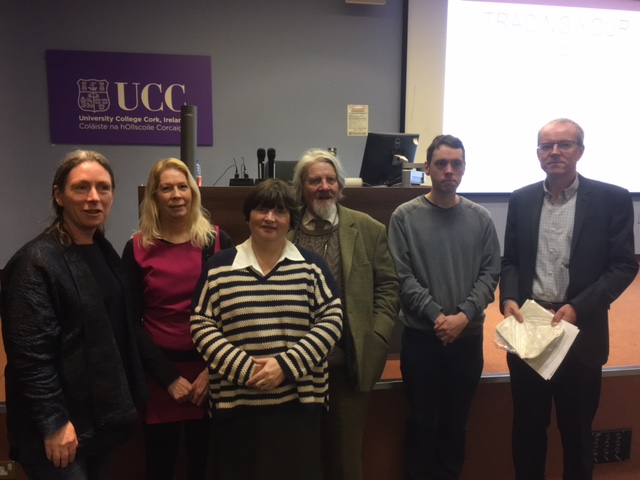 Fiona Fitzsimons, Christine, Lorna Moloney, Kenneth Nicholls, David Ryan and Paul McCotter
Lorna Moloney, resident genealogist of Dromoland Castle, kicked off the day with her exploration of the material evidence for mapping the O'Brien and MacNamara Gaelic Lordship.
For many centuries before its plantation by the English and renaming as Queens' County, Laois was under the control of the Seven Septs (Clans), the O'Moores, O'Kellys, O'Lawlors, O'Dowlings, O'Dorans, O'Devoys or O'Deevys or O'Dees and McEvoys. Following many bloody battles the surviving Septs were transplanted to Kerry, being under sentence of death if returning to Laois. Michael Christopher Keane gave a fascinating overview of the transplantation and subsequent histories of the Seven Septs.
Kenneth Nicholls, one of the outstanding Irish medieval scholars of the last generation, was next. He spoke about the origin of Irish surnames over 700 years. In Ireland where the Irish and English languages were spoken, names changed in translation, often hiding the family's origins. Irish families were identified as having English or Norman origins; and vice versa. Amongst the names considered were Adams; Berkeley; Buttimer; Carew; Colbert; Corbet; Crosby; Darcy; Dorsey; Dundon; Fitzsimons; Forbes; Fowler; Harrington; Harris; Liston: Lynch; Mansfield; O'Dowd; Redmond; Rochfort; Santry; Sexton; Skeffington. His talk was witty and erudite, and when he finished, he was swarmed by the audience.
Fiona Fitzsimons took a long look at the evidence that survives in church records for family and social history. Church records are often the most complete early evidence for family History. Between 1600 and 1900 what church records were made for the RC and CoI (Episocpalian) in Ireland; what was lost; what survives, and what evidence is relevant to historians. In Ireland the adoption of printed registers in the first half of the 19th C. resulted in a greater amount of evidence, so there is significant variance over time in the records. This speaker examined traditions that dictated when, where and how couples were engaged and married; so-called 'beggar-marriages'; and how the RC clergy finally ended 'irregular marriages' in Ireland. She concluded with a look at traditions around death and burial, and what evidence is in the records.
Paul McCotter spoke on Sources and Archives, and how to use the evidence in Family History. He reviewed the major genealogical sources that survive in all the major Irish repositories, with a strong emphasis on Cork Records. The Cork City and County Archives (CCCA) collection is a treasure-trove, and its holdings include the records of the Cork Workhouses.  Archival collections include cemetery records, but also school registers, an often overlooked source, rich in evidence for family and social historians.
The speaker drew our attention to the medical records of Our Lady's Hospital, Cork, deposited here. In Ireland in the 19th and 20th Century there was an epidemic of incarceration in Asylums and mental hospitals. Until 1945 patients in asylums could only leave, if they were signed out by a family member who was a householder. Archival collections in the Boole Library, UCC includes the rentals of the Bantry (White family) estate; and records of the Beamish & Crawford Brewery, and Murphy's Brewery. The speaker left us with lots of research 'nuggets' the fruits of decades of archival research.
David Ryan spoke on Tracing your Cork Ancestry. He reviewed manuscript and online sources and gave a good research overview from a Corkonian perspective, or for anyone researching Cork origins.
Bottom Left: Michael Christopher Keane, Right: Kenneth Nicholls