Joseph Kearney was Barack Obama's 6x great-grandfather. This pedigree chart shows his wife, siblings, nieces and nephews. Read on for further information on some of these individuals.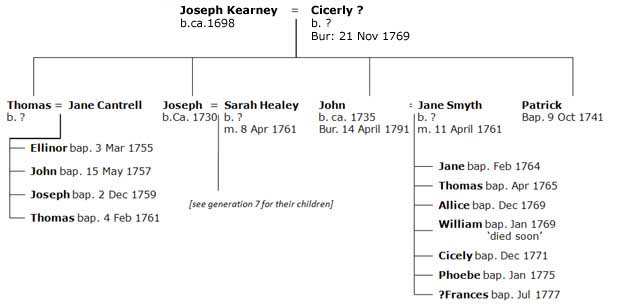 Thomas Kearney
Thomas was witness to a lease dated 1768 (Bettridge to Kearney) and describes himself as a 'peruke-maker'. He married Miss Jane Cantrell on 24 November by banns. Because he married seven years before Joseph, he might have been older than Joseph, though we don't know this for certain. A Mrs Jane Kearney of Gurtgreen was buried in Shinrone Church of Ireland on 14 December 1799, while Joseph Kearney of Gurthgreen was buried on 23 February 1815. Thomas and Jane had four children,all of whom were baptised in Shinrone Church of Ireland. These were Ellinor, John, Joseph and Thomas. Joseph had a 'natural child' named Catherine, by Bridget Ryan. Catherine was baptised on 12 March 1739. Joseph later married a woman called Margaret (surname unknown) and had two more children: Elizabeth, baptised 23 October 1812 and Jenny who was baptised on 4 March 1814.
Joseph Kearney
Joseph was probably born circa 1730. He is described as a 'comber, of Shinrone' in a lease dated 1759. He married Sarah Healey 'of Moneygall' on 8 April 1761 in Shinrone Church of Ireland according to the parish register. The couple is also referred to in a marriage licence bond for Killaloe.
Sarah Healey
Sarah, like her husband Joseph, was 'of Moneygall'. Her brother Lambert Healy is described as 'comber of Moneygall' like Joseph. Lambert married Elizabeth Ryall of Tomeghater, co. Tipperary on 3/8 April 1761, according to the Killaloe marriage licence bonds.
John Kearney
John was born circa 1735. He married Miss Jane Smyth by banns on 11 April 1761 and it is believed that the couple went on to have seven children: Jane, Thomas, Allice, William, Cicely and Phoebe. William and Phoebe both died soon after their baptisms, while Cicely is probably a late example of the superstition whereby a child might be baptised to ward off illness; parish records show she was baptised 15 Dec 1771, [re?]baptised 6 Dec 1779 and rebaptised again – this time undated. In Feb 1880 she was 'buried in Shinrone.' John was a witness in a 1768 lease. He was buried on 14 April 1791; according to the Shinrone Church of Ireland burial records 'aged 56 years, he died in Dublin and was buried in Shinrone.'
Patrick Kearney
Patrick was baptised on 9 October 1741 in Shinrone Church of Ireland. No further information has been found about him to date.