Northern Ireland (NI) is a relatively small place, but it's packed with history, culture, and impressive attractions. If you're planning to travel to NI, or curious about the country and its geography, it's worth taking a deeper look at the map of Northern Ireland and its sites. 
This article will map out some of the key geographical features, attractions, and cities in Northern Ireland. Whether visiting soon or just doing some research, you'll find what you're looking for in our guide and detailed map of Northern Ireland. 
Map of NI
The following map shows some of the main cities of Northern Ireland and the country's border with the Republic of Ireland. While this map does not include NI's county boundaries, you can easily search for a Northern Ireland county map to discover more about the Northern Irish counties. Furthermore, maps of Ireland and the United Kingdom will help you see where Northern Ireland is situated geographically.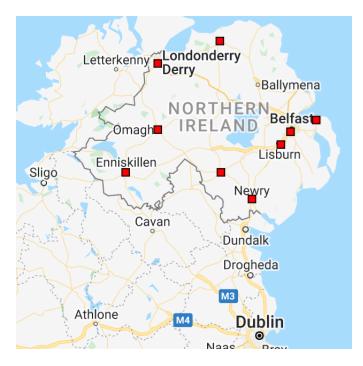 (Source)
Geographical Features
Northern Ireland is located on the island of Ireland and is part of the United Kingdom of Great Britain and Northern Ireland. The six counties of Northern Ireland are Antrim, Armagh, Down, Fermanagh, Londonderry (also called Derry), and Tyrone. The capital city in Northern Ireland is Belfast.
One of the most well-known geographical sites in Northern Ireland is the Giant's Causeway. It's a UNESCO World Heritage Site with more than 40,000 basalt columns. 
Northern Ireland is also a great place for hiking. The region has many marked trails, lakes, and mountains to explore. Northern Ireland's most beautiful lakes include Lough Neagh, Portmore Lough, and Belfast Lough. Some of the best mountains to visit in the country are the Mourne Mountains, Sperrin Mountains, and the mountains in the Murlough National Nature Reserve.
Attractions of Interest
There are plenty of popular attractions worth visiting in Northern Ireland, from the capital in Belfast to the area's many castles and historic counties. Here are a few places worth adding to your NI travel list. 
The Giant's Causeway

Carrick-a-Rede Rope Bridge

Dunluce Castle

Belfast Castle

Carrickfergus Castle

Titanic Belfast

Ulster Museum in Belfast

Tower Museum in Derry

Peace Bridge in Derry

St. Augustine's Church in Derry

Preserved

17th century

walls in Derry

The Cathedral Church of St. Patrick in Armagh
How to Get to Northern Ireland
With a detailed road map of Northern Ireland, you'll be able to navigate around the area with ease. But first, you'll need to decide how you'd prefer to travel to NI. Here are some options to consider. 
By Car
You can drive to Northern Ireland from Great Britain via ferry. Three of the main ferry ports are Belfast, Larne, and Warrenpoint. There are also numerous driving routes to NI from the Republic of Ireland.
By Train
The high-speed Eurostar train operates direct routes from London to Belfast. Alternatively, you can take a train from London to Dublin and then travel to Belfast from there.
By Air
Belfast International Airport and George Best Belfast City Airport are the two main airports serving Northern Ireland. Belfast International Airport is located 18 miles (29 kilometres) northwest of Belfast city centre. George Best Belfast City Airport is just two miles (three kilometres) east of the city.
Get Help Identifying Your Family Tree with Irish Family History Centre
We hope our recommendations and map of Northern Ireland have helped you discover the many great reasons to visit the country. If you have roots in Northern Ireland, visiting the area can become a research trip full of fascinating insights into the lives of your Northern Irish ancestors. 
Our team of genealogy experts at the Irish Family History Centre can help you learn more about your ancestors from Northern Ireland. Contact us today to understand your family tree and learn more about your Irish heritage.