The Russell family were Old English settlers, who claimed their origins in Ireland went back to the Anglo-Norman conquest.  Although visible in the records from the 1200s, the Russells didn't have a large landed base.  Their main seat was Seatown, situated in present day Malahide, north county Dublin.  Fragments of Seatown Castle survive to the present day, and have been incorporated into a modern dwelling.  The archaeological records of Seatown Castle indicate that it was quite a modest structure, and was probably built to avail of the £10 government grant available in the late 15th Century.  The main interest of Seatown Castle is in its site, close to the water's edge and with moorage.[1]  It's highly probable that the Russells engaged in cross-channel trade, although the poor survival of historic documents makes this difficult to substantiate.  We know that the Russells had significant wealth by the early 1600s, proof of which is that by 1627 they completed Drynam House, a substantial manor house built in the Jacobean style.[2]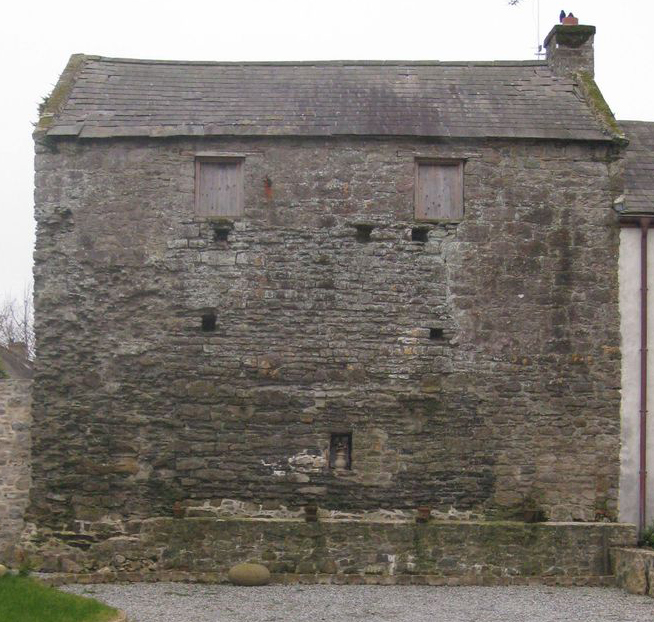 Left: Seatown castle. Courtesy of Mark Henry, Tourism Ireland
As an 'Old English' family the Russells were proud of their link to the original conquest, but they also held fast to their Catholicism even as religion became a key political issue in the 1600s.  At the time of the 1641 Rebellion, the Russells took up arms in support of the northern rebels, and were attainted – declared illegitimate in the blood, and their lands taken into the hands of central government.[3]  They received a re-grant of Seatown during the Restoration, and Robert Russell of Drynam even sat as a Member of Parliament for the Borough of Swords in King James's parliament in 1689.[4]  As supporters of the catholic King James II, the Russell family's Seatown estate was forfeited after the Williamite Wars (1689-91), and the estate was granted to the Dublin Archbishopric.[5]  The Russell family retained Drynam House and 421 acres surrounding it, and it passed by descent in the family, until it was finally sold in the 1920s.

Left: Christopher Russell of Seatown in the parish of Swords as a rebel
1641.tcd.ie, Deposition of John Locke, 20/01/1642.
Below: Drynam House
In 1766, the marriage of Bridget Russell "only child and heir at law of Robert Russell of Drynam", to Andrew Cruise, united these two families,[6] and the children of all subsequent generations adopted the double-surname 'Russell Cruise'.  Patrick Russell Cruise was born ca. 1799 in Drynam House, the second son of Robert Russell Cruise and Anna Maria Maguire.[7]