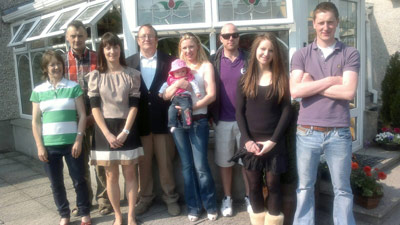 In March 2010 during a live radio interview with the late Gerry Ryan, Fiona Fitzsimons 'outed' Dick Benn as a cousin of president Barack Obama's.
"We came across the Benns when we were researching the President's Kearney ancestors" she explains. "I thought everyone knew of the connection, and didn't think I was 'blowing his cover'."
Fiona subsequently visited the Benns in Tipperary and began, to piece together the jigsaw. She drew up the family tree based on Eneclann's research, and Dick Benn added details on the more recent generations of the his family. Eneclann then corroborated this information by reviewingusing birth, marriage and death records in the civil registration indexes and the Church of Ireland parish records for Shinrone, Dunkerrin and Templeharry. The Benns are also associated with Bourna parish, but unfortunately these records were destroyed in 1922 during the Civil War.
The output of Fiona and Dick's combined work was a Benn family tree across 9 generations.  Download the Obama-Donovan Pedigree.