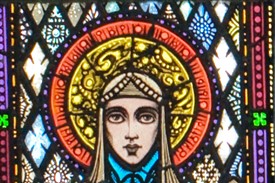 Genealogists place a great importance on the naming patterns within a family, they can give us clues as to the names of the paternal and maternal grandparents.  It's also worth bearing in mind, however, that children were often named after a saint if they were born on or close to that saint's day.  The feast day of St. Bridget falls next Monday heralding springtime in the Celtic calendar.
Saint Bridget was a very popular saint countrywide and we see many 'Bridgets' in the baptismal registers in and around the 1st of February, just as we see a plethora of 'Patricks' in the middle of March.  Less widespread although still popular was the name of Martin, whose day was celebrated on the 11th of November.  Sometimes parents gave the saint's name in addition to a name they had chosen already, so for instance in Wexford parish we find a William Martin Doran born to John Doran and Bridget Keogh on the 10th of November 1861 and baptised the following day.  If one didn't know that the 11th of November was St. Martin's day one might jump to the conclusion that the Dorans were naming their child after his maternal and paternal grandfather.  Many saints were local to a specific county or province.  We can find the baptism in Cahersiveen parish of a 'Gobineta Connell' on the 9th of February 1867 to parents Con Connell and Hanora Moriarty.  Gobineta almost certainly derived her name from St. Gobnait, a saint born in county Clare, but who travelled throughout Munster, and whose feast day is the 11th of February.
So next time you see a name in a family tree that doesn't seem to quite 'fit', bear in mind that the days around the child's birth and baptism may well be relevant.
There are a number of online websites giving Irish saints' days and the Rev. John O'Hanlon's Lives of the Irish Saints is a very comprehensive study which details month by month the traditions associated with the saints and their feast days.
By Helen Moss,
Eneclann Research Expert