In 1916 the Royal Navy began to recruit submarine captains from among its young naval officers. This was probably the first time since the Napoleonic wars that young officers could achieve such rapid promotion. Recruitment to the submarine corps offered potentially huge rewards, including the chance to captain a vessel at a remarkably young age.
However, opportunity came at a price. Submarines were deployed mainly in the Dardanelles, and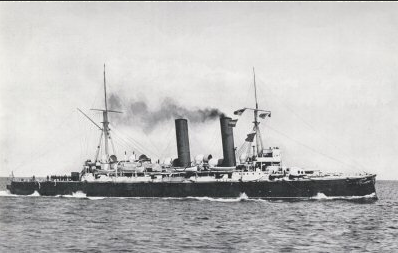 losses of ships and lives, were high. Also submarine technology was still in its infancy and had many technical problems – mainly mechanical faults in engines, and air-circulation onboard. Subsequently, a disproportionate number of the young men who served on submarines developed severe respiratory problems and/or air-borne diseases such as tuberculosis (TB) for which there was neither a cure or any effective treatment at that time.
From 1917 Rickard Donovan took the opportunity of submarine training, and this was to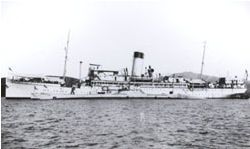 become his main activity for the remaining years of WWI. He started training on the HMS Vulcan (above), the submarine depot ship.
After leaving the Vulcan he undertook further Submarine training at HMS Dolphin (October 1917 – January 1918) and was then assigned to the Submarine Depot ship HMS Ambrose (right) for the rest of the war.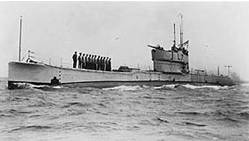 Rickard quickly distinguished himself as a submarine commander and was assigned first to the Submarine L7 (Left). At the age of 19 he was commanding a group of naval cadets, often as young as 15, to attack Turkish vessels in the Dardanelles. The submarines leaked constantly, and were exceptionally cramped and dangerous
After the war Rickard continued his speciality with submarines, being assigned to HMS
Vulcan and many other Submarine depot ships, as well as being given command of the submarines such as the K22 (right) and H33.
Rickard was promoted to a full Lieutenant in April 1919, and was described in December 1920 in his Service records as 'promising, very keen and zealous, cheerful temperament, good example, good leadership, judgement and firm decision, smart'. [TNA, ADM 196/120, p.135]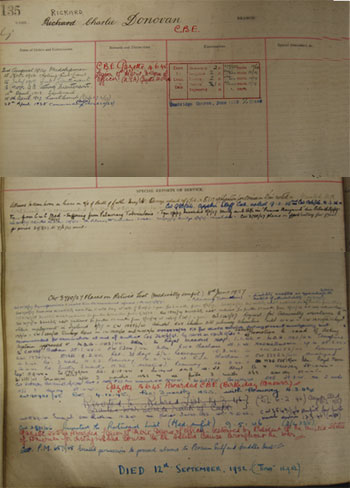 Rickard Donovan's Service Record
[TNA, ADM 196/120, p.135]
Despite this promising start to his career, Rickard's health was badly affected by his time aboard submarines and he contracted tuberculosis. By 1927, having reached the rank of Lieutenant Commander, the disease had progressed and he was invalided out of the Navy and granted a disability pension.