My Name is Eva, I am fifteen years old and in Transition Year. I have been researching my own family history since the age of 12, so I decided to apply to the Irish Family History Centre and their partner company Eneclann for a one week Transition Year Work Experience placement because of my keen love for genealogy.
I emailed Claire Murray and she very kindly arranged for me do one week of Transition Year work experience; working between the Irish Family History Centre in the CHQ building and Eneclann on Aungier Street. I am so thankful to Claire for putting together such an interesting itinerary with a mix of activities for the week, I really enjoyed it. Also thank you to everybody in both the Irish Family History Centre and Eneclann for making me feel so welcome and teaching me lots of new tips within the genealogy field.
On the Monday and Wednesday of my placement, I was in the Eneclann Offices on Aungier street and on Tuesday, Thursday and Friday I was in the Irish Family History Centre in the CHQ building. In Eneclann I was greeted very warmly by Caitlin who gave me a tour of the different areas including the commissioned research area and the digitalisation and preservation of records area. Everybody there was so welcoming and interested in my own research.
On Wednesday in Eneclann, Fiona Fitzsimons took me with her to a six week genealogy course she runs in Blanchardstown Library. It was the last week of the course and she was teaching how to use newspapers as a genealogical source. It was really interesting and I learnt lots of new tips to use when searching newspapers. I also got to help the members of the course research their own ancestors on the public access computers in newspapers. I really enjoyed the class and getting to help and meet loads of new people. I felt so fortunate being given this amazing opportunity and learnt a huge amount.
On Monday I traveled with Helen Moss to the Valuation Office and helped her do some commissioned research that involved land valuation records. I learnt about how to use and navigate valuation records and old maps and loved being introduced to a new source that I could use in my own family history research. I was intrigued by them, so much so that after my work experience on Tuesday and before my work experience on Thursday I returned to the Valuation Office by myself to research my own family in County Wexford using the land records there. I found lots of new information, which I will explain below.
I have been researching my family tree since the age of 12 and I am very interested in expanding my family tree. One major figure in my own past is my 4x great-uncle Fr. William Stafford who was parish priest of Rathmines, Dublin. My Stafford Family are descended from the Anglo-Norman family that landed in 1169 as part of the Norman Conquest and established their headquarters at Ballymacane Castle County Wexford.
I am very lucky, as this part of my family are very well documented, so I have been able to trace my direct line back to 1412. However, as the Stafford's remained Catholic, their land was confiscated during the Cromwellian Confiscations in 1649 as documented in the Down Survey (which has been made available online by Trinity College Dublin).
After they lost their land, a Nicholas Stafford moved to Baldwinstown in the parish of Rathangan County Wexford and he bought the land of Baldwinstown Castle on lease from one of Oliver Cromwell's Soldiers called John Swan in approx. 1660.
We know that Staffords remained on the land in Baldwinstown until half of the land was sold in 1984 when the last Stafford spinster passed away. Her name was Mary Josephine (Maureen) Stafford and she had been midwife to Queen Elizabeth II when she gave birth to Prince Charles.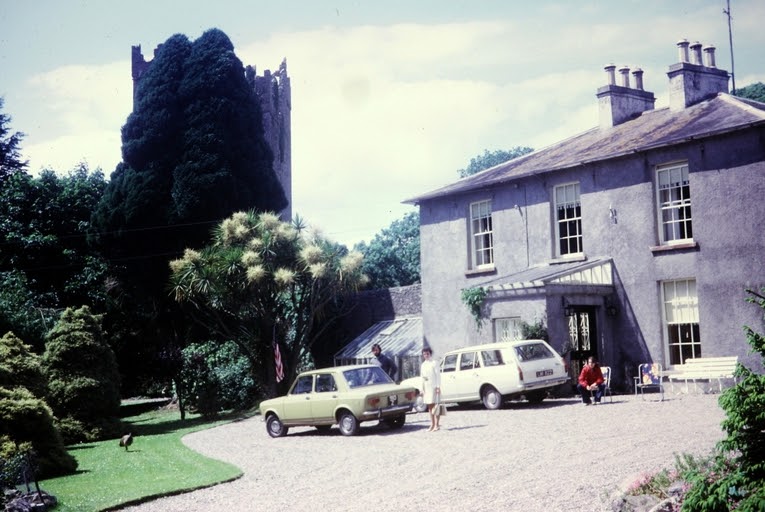 (Photo of Baldwinstown Castle)
However, there is a gap in time from approx. 1660-1800, where we have no mention of the Stafford's of Baldwinstown in any records. We only have names which were documented in a family tree with no sources, so when I came across Fr. William Stafford in family records, I became very intrigued to find out more about him.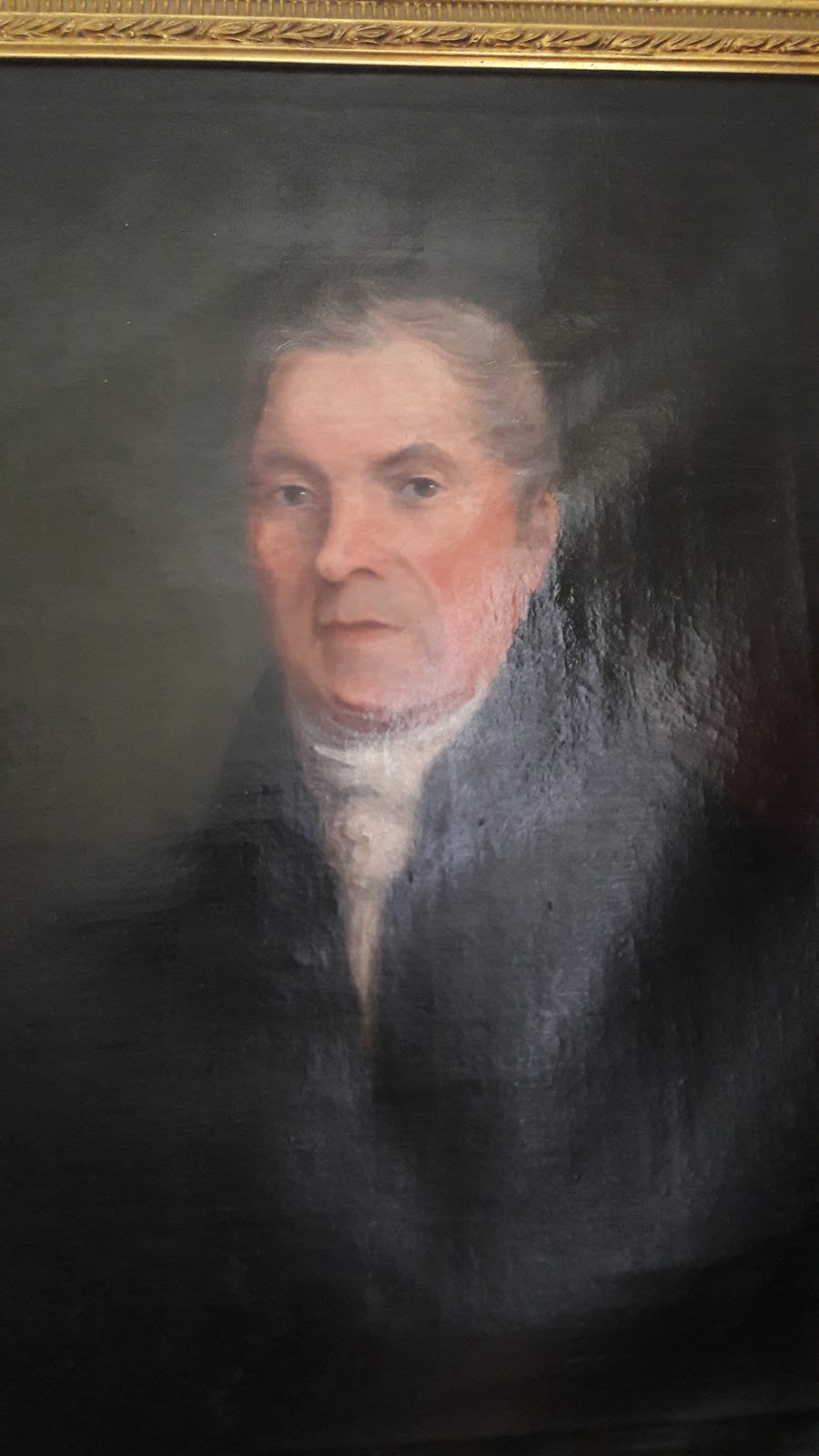 (Photo of painting of Fr. William Stafford)
From our own family trees we know he was born approx. 1768 and died on the 12th Nov 1848. To start my search for him I began by trying to find a newspaper article about him. I searched on Findmypast.ie's newspapers and periodicals for a William Stafford of Rathmines and I found an obituary in the Freeman's Journal which was published on the 14th Nov 1848.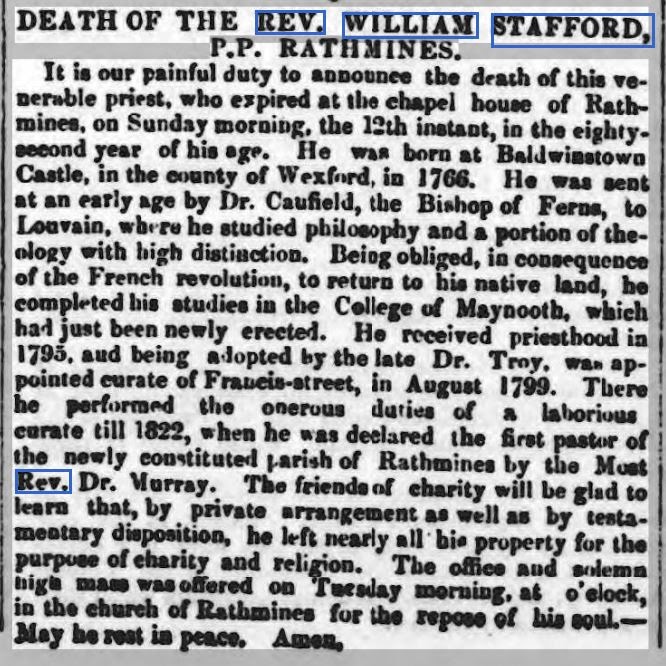 (photo of obituary in Newspaper).
It contained various pieces of new information. It explains that he was sent to study at the University of Louvain in Belgium, and that due to the French Revolution he returned to study in the newly opened seminary in the College of Maynooth, where he received priesthood in 1795. He acted as curate of Francis Street from Aug 1799 until 1822 when he was then appointed the first parish priest of the newly established parish of Rathmines in Dublin.
He is mentioned on Rathminesparish.ie in their history section where it states how before the first parish church in Rathmines was constructed in 1830, he conducted mass in his own house. He also donated £1,000 pounds to go towards the building of a bigger church in Rathmines in 1848, but he passed away in the November aged 81, so never got to see the completed version.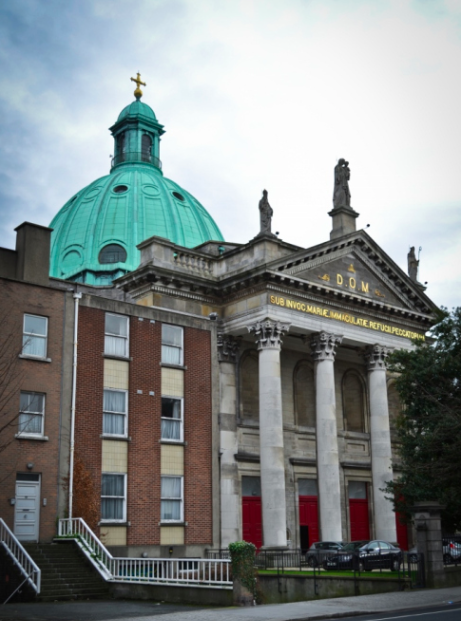 (Photo of the current church in Rathmines)
Very fortunately I searched the Irish Wills Index on Findmypast and discovered that his will still exists and is held in the National Archives. His will states that he split his part of Stafford land in Baldwinstown up between his various nieces and nephews, many of who I did not know about which was really exciting.
He wills onto his two nieces Ellen and Alice Synnott his lands in Baldwinstown for their lifetime and when they die he gives it unto his great-nephew William Stafford son of his nephew John Stafford who I am decended from.
I managed to figure out through parish registers that Ellen and Alice were sisters and their mother Alice Stafford was a sister of Fr. William's. Ellen and Alice's maiden name was Browne and they married two Synnott brother's, Peter and Walter, hense why they have the same married name.
In the Valuation Office I got to examine the Union Maps of the townland of Baldwinstwon and how different plots were exchanged between family members throughout time.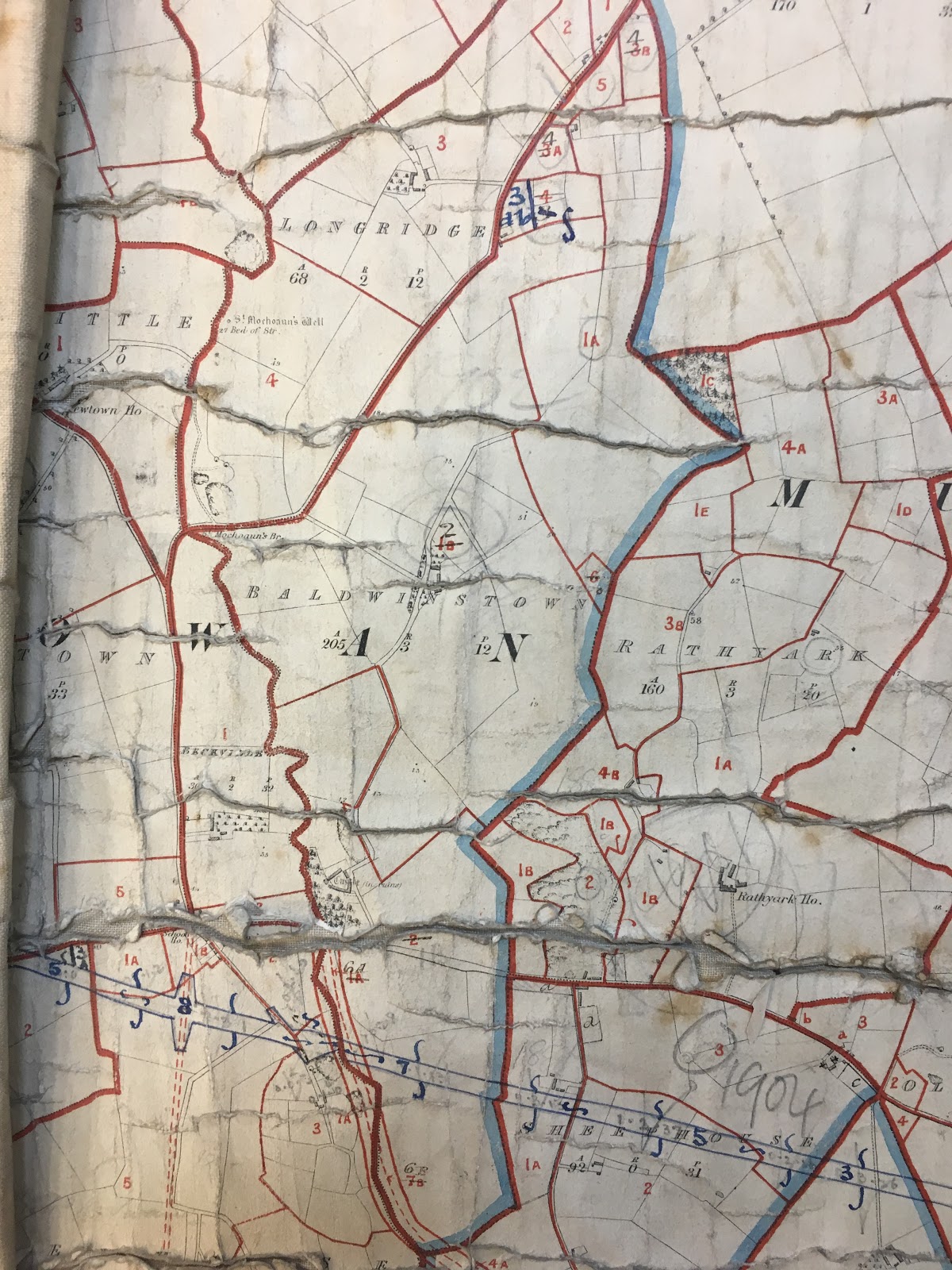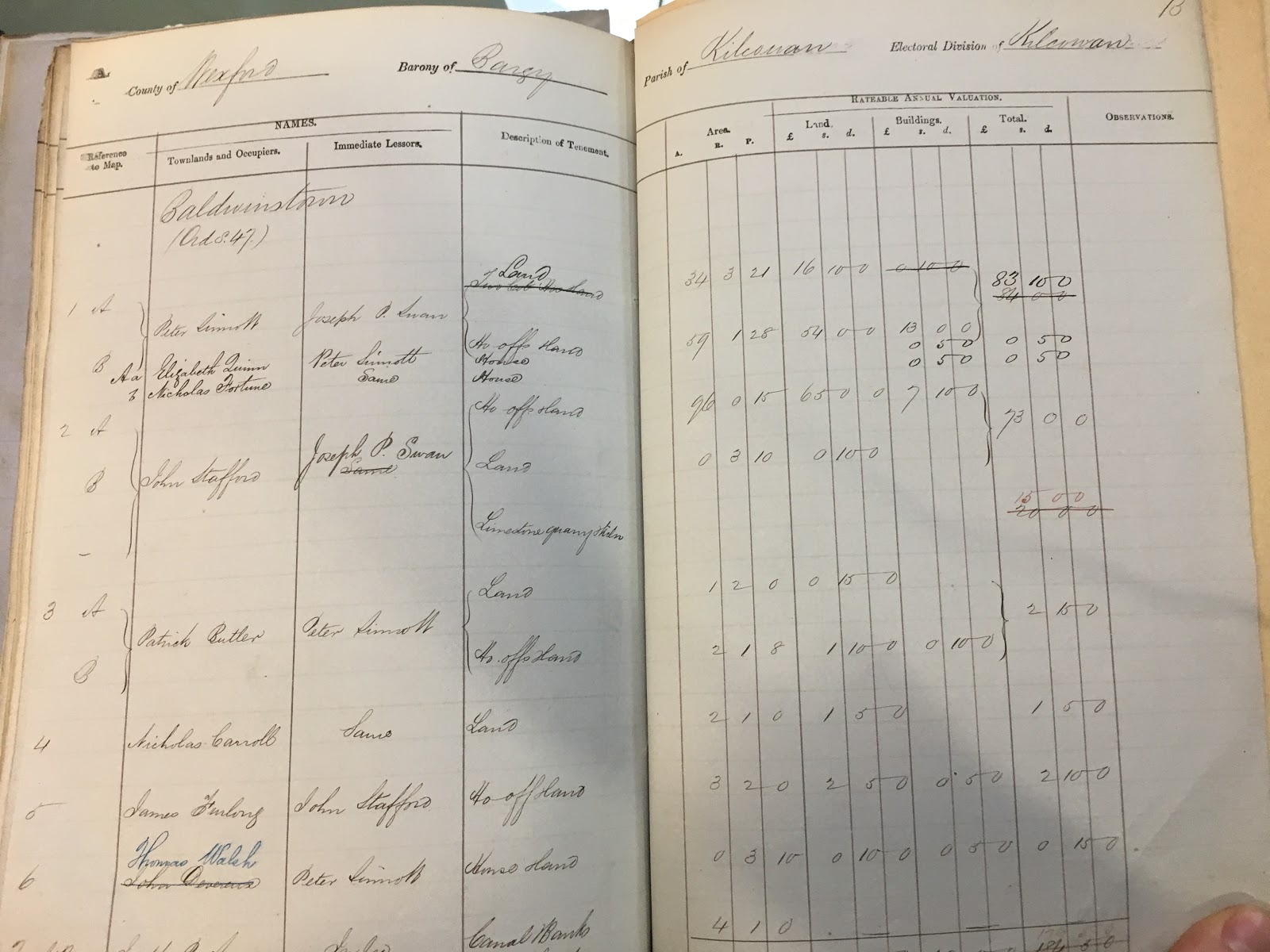 (Photo of Map and a land valuation)
This photo of a land valuation and map was from approximately 1855 and it shows how Peter Synnott (husband of Fr. William's niece Ellen) held plot 1A and B known as Baldwinstown Castle and John Stafford (Fr. William's nephew) owned plot 2A and B town as the Upper House.
I am really grateful to Helen for showing me this new source as it has given me a huge amount of new information in terms of the Stafford Lands in Baldwinstown.
I cannot explain how much I enjoyed my work experience placement at the Irish Family History Centre/Eneclann. Everybody was so kind and welcoming and I got to learn a huge amount of new skills that I can apply to my own Family History research. I cannot thank Claire enough for putting together such an interesting itinerary for the week and to everybody in both the Irish Family History Centre and Eneclann for making my week so enjoyable, special and memorable. I'm so sad that my work experience is finished but I absolutely loved the experience and would highly recommend other students coming into the Irish Family History Centre/Eneclann for their Transition Year Work Experience because it is so enjoyable and you learn so much.
I want to say a special Thank You to Claire Murray, Helen Moss and Fiona Fitzsimons.
By Eva – TY Student.
__
We would also like to say a big thank you to Eva for all her hard work during her time with us – we were all very impressed with her knowledge and enjoyed showing her the inner workings of  a career in professional genealogy. 
Wishing you the best of luck moving forward Eva – thanks again from all of us at the Irish Family History Centre!