On 20th September 1858 in the RC Cathedral in Detroit, Mary Pauline, youngest daughter of the late Patrick Russell Cruise, married Dillon Henry Mapother, of Louisville Kentucky.  A notice of their marriage in the Freeman's Journal stated that Dillon H. Mapother was the second son of the late Henry Mapother Esq. of Annadale Lodge, county Dublin.[1]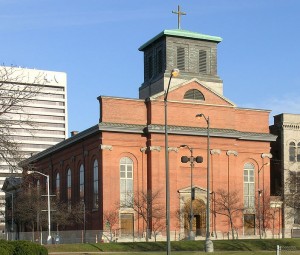 Left: Saints Peter and Paul Church, Detroit. Then cathedral for Detroit. Andrew Jameson.
Dillon Henry Mapother [2] held a degree in civil engineering, and had immigrated to New York in January 1850,[3] before settling in Louisville Kentucky where he established a successful printing business.  The couple had six known children: [4]
Below: the marriage of Mary Pauline Russell Cruise to Dillon Henry Mapother, from The Freeman's Journal
Mary Mapother born March 1860, died young.
Dillon Edward Mapother born ca. 1862
Dellia Mapother born ca 1862/63
Henry Hart Mapother born ca. 1864
George Brace Mapother born ca. 1869, died 9th Sept. 1870, and
Wible Lawrence Mapother born 28 Sep 1872.[5]
Dillon Henry Mapother died between 1873 and late 1875.  At the time of her first husband's death Mary Pauline Mapother (nee Russell Cruise) was in her early 40s, with a large family to support.  On 28th Feby. 1876 Mary Pauline Mapother remarried to Thomas O'Mara.  We don't know much of Thomas O'Mara beyond what is recorded in the 1880 U.S. Census – he was a Wholesale Druggist, born ca. 1835 in Kentucky of Irish parents.  The family were resident in Jefferson county, Louisville Kentucky.  There was only one known child of this second marriage – Thomas O'Mara jr. was born 29th December 1876, when his mother was forty-four years.
This child is central to this family history, as he is the great-grandfather of the actor Tom Cruise.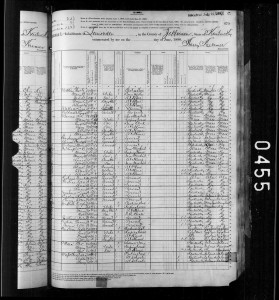 Right: Thomas O'Mara as recorded on the 1880 US census.  Courtesy of findmypast.ie�
Thomas O'Mara Sr. appears to have died after the 1880 U.S. Census, and before the 1900 U.S. Census.  We know that before 1900 Thomas O'Mara Jr. assumed the name Thomas Cruise Mapother (I), although the evidence as to why he did so is incomplete.  Making an educated guess, we think Thomas O'Mara changed his name after his father's death, and almost certainly on his mother's prompting.   Mary Pauline knew that her children by her first husband were due a family inheritance, from the eventual sale of the Mapother estate in Ireland on the failure of male heirs.  We think she encouraged her youngest son to adopt the name 'Mapother' because she wanted him to have a share in this inheritance, which was not inconsiderable.  By the late 19th Century the Mapother estate amounted to 1,777 acres.