Richard Stoker
Although there is strong circumstantial evidence that Richard Stoker was father of William Coates Stoker (and so Bram's great-grandfather), we cannot find clear proof.
We know that between 1772 and 1775 Richard Stoker was a corporal in the 2ndRegiment of Horse.  In later records of the 1770s Richard Stoker is recorded as Quartermaster in the same regiment.
Richard Stoker died on 16th January, and was buried 17th January 1780 in St. Paul's CoI Dublin.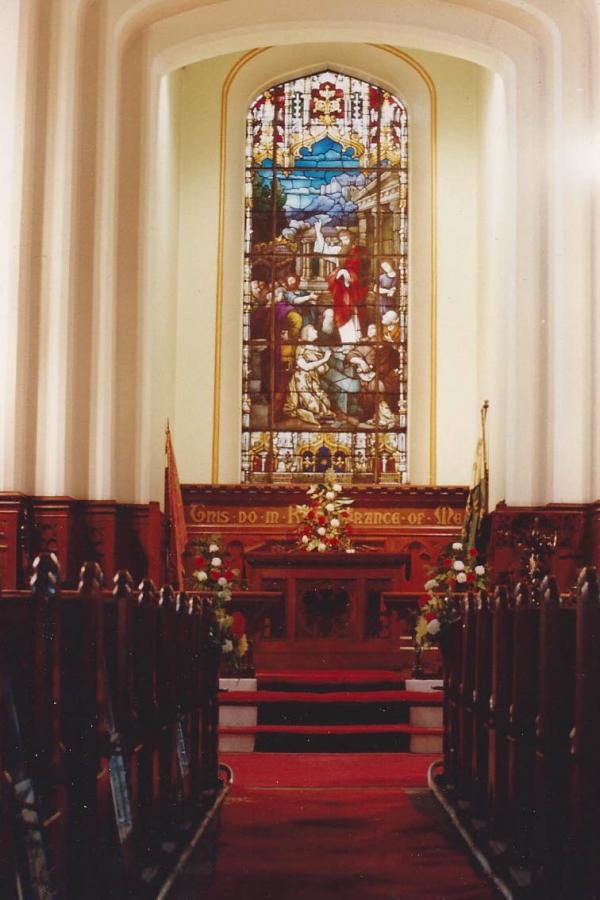 Interior of St. Paul's CoI
William Coates Stoker
Bram's grandfather.
William Coates Stoker is the earliest proven Stoker ancestor.
He was born ca. 1754, died on 25th December 1827, and was buried in St. Paul's CoI Dublin.
William Coates Stoker probably completed his apprenticeship a number of yearsbefore he secured Freedom of the city of Dublin.  Traditionally a young man was apprenticed between the ages of 13 and 15, and served a seven year apprenticeship to qualify as a journeyman between the ages of 20 and 22.  We know that William Coates Stoker was born ca. 1754, which would indicate an approximate age of 26 years in 1780.  Its probable that on completing his apprenticeship, he worked to save enough money to set up in business and to enable him to marry by 1780.
William Stoker
Bram's uncle.
William Stoker was born ca. 1788, son of William Coates Stoker.
In December 1813 William Stoker married Frances Georgina McAllister in St. Andrews CoI.  The couple had no known children.
Of all of William Coates Stoker's sons, William Stoker was the one who seemed most likely to succeed.  He was ambitious, and he pushed himself to the front.  He doesn't appear to have always exercised good judgement however, and he is known to have occasionally fallen out badly with colleagues and friends.
–       In Easter 1809 William Stoker was recognised as a member of the Tailors' Guild by birth, and made a Freeman of the city of Dublin.  By his own account he never worked as a tailor, but guild membership enabled him to fully participate in the commercial and political life of Dublin city.
Entry from Freemen of Dublin City, 1774-1824, Findmypast.ie
–       In the 1810s and 20s William Stoker was clerk to Sir Abraham Bradley King, a Dublin Merchant Prince.  Sir Abraham Bradley King was King's Stationer (1780-1831); Printer to the House of Commons 1781-1784, 1786-1800; Lord Mayor of Dublin in 1813 and 1821.  Despite Abraham Bradley King's wealth and influence he had 'a whiff of sulphur about him.'  Inevitably, King's dubious reputation 'rubbed off' on his clerk.
–       In 1823 William Stoker was Deputy Grand Treasurer, and Sir Abraham Bradley King was Deputy Grand Master of the Grand Orange Lodge of Ireland. [Finns Leinster Journal January 15 1823].  Stoker's appointment as Deputy Grand Treasurer suggests that within the bounds of the Orange Lodge at least, he was no longer simply Abraham Bradley King's functionary but his close colleague and confidante.
–       In 1823, William Stoker appeared before an official Inquiry into whether Abraham Bradley King and the Orange Lodge had interfered with empanelling juries for the Dublin courts. [Hansard].
–       By 1824 William Stoker was no longer clerk to Abraham Bradley King, and this former connexion seems to have soured.  In the meantime William Stoker secured a permanent position in the General Post Office.
–       In 1824 William Stoker was elected by the Guild of Tailors to represent them at City Council level.  A fellow guild-member took a legal challenge against his election on the basis of precedent.  The argument against Stoker was essentially that he did not practice the trade of a tailor and was therefore not eligible for election to represent them in the City Council.  Evidence was presented that William Stoker was the son of William Coates Stoker the 'stay-maker', which caused a good deal of hilarity in court.  William Stoker himself asserted that he was a gentleman, and had never practised as a tailor.  Sir Abraham Bradley King was called to give evidence, but excused himself on the basis of a 'domestic calamity' suggesting that Abraham Bradley King had by now placed some distance between himself and his former employee.
William Stoker died in late November, and was buried 29th Nov. 1833 in St. Paul's CoI Dublin.
Abraham Stoker
1799-1876
Abraham Stoker, Bram's father was probably the youngest child of William Coates Stoker and Frances Smyth, born almost twenty years after his parents' marriage.  Abraham Stoker's character appears to have been the polar opposite of his older brother William 'the Orangeman'.
There is little or no record of him in his youth, and but for his late marriage in 1844, Abraham Stoker might have spent the rest of his life in the same inconspicuous manner.
In 1815 at 16 years, he entered full-time employment as a junior clerk in Dublin Castle.  In Michaelmas 1822 Abraham Stoker was recognised as a member of the Tailors' Guild by birth, and became a Freeman of the city of Dublin.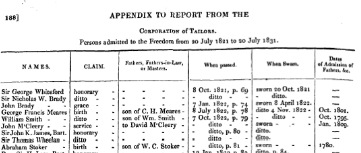 He almost certainly never intended to practise as a tailor, but in professional terms, membership of the Tailors' Guild opened a door for him.
Abraham Stoker persevered as a clerk in Dublin Castle, but by 1843 was only promoted to the level of Assistant Clerk in the Chief Secretary's Office.