The Warren family were Old English settlers, who claimed descent from the Anglo-Norman conquerors.  Their main estates were in Drumree, county Meath.
Sir Peter Warren (1703-1752) was the son of Michael Warren of Warrenstown, and Lady Katherine Plunkett (nee Aylmer).[1]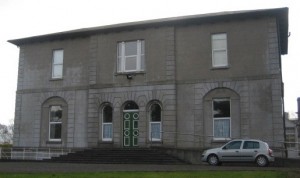 Left: Warrenstown House
Peter Warren joined the navy at Dublin in 1716 as an ordinary seaman, under the protection of his maternal uncle, Admiral Matthew Aylmer.  He rapidly rose through the ranks, and from 1718 spent his career either on the North American coast or in the West Indies.  He acquired a good knowledge of the coastal waters along the east coast, and with colonial politics on land, and began to invest in land in the provinces.  His biggest investment was in the Mohawk Valley, and in 1738 he brought his Irish nephew William Johnson over to look after the Mohawk Valley estate.
In 1731 Peter Warren married Susannah Delancey, daughter of Stephen Delancey a wealthy New York merchant – Susannah brought the largest estate in Manhattan as her dowry.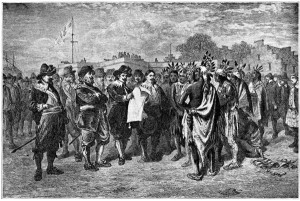 Right: Sir William Warren in Treaty with the Mohawks. From Wood, Norman B.� The Lives of Famous Indian Chiefs. Aurora: American Indian Historical Publishing Company, 1906.
The greatest success of Warren's naval career was in 1745, when he was one of the naval commanders in the capture of the French port of Louisbourg, for which he was made a Rear Admiral.  His income from war prizes was enormous, amounting to at least £126,000 and he invested his wealth in land in American colonies, as well as in Ireland and England.  In the late 1740s he was briefly involved in politics and was elected M.P. for the city of Westminster.
He died suddenly in 1752, and was returned to Ireland and buried in Warrenstown.
Sir Peter Warren's sister Ann Warren married Christopher Johnson, and they inherited Warrenstown House and the Meath estate.  Christopher and Ann Johnson's oldest son was William Johnson (1715-1774).[2]  In 1738 William Johnson moved to New York to manage his uncle Warren's estate in the Mohawk Valley.  In the process William Johnson learned the Mohawk languages and traditions, and he made full use of the skills he learned at this time to develop a role negotiating with the Iroquois Confederacy to support the British interest against the French.  During the French and Indian War (1754-1763) Johnson commanded Iroquois and colonial militia forces.  In 1755, Johnson participated in the Battle of Lake George and in 1759 he had a role in the capture of Fort Niagra.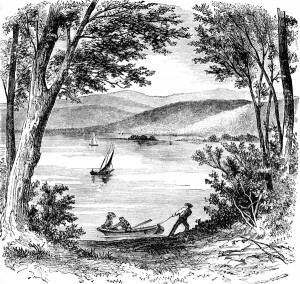 Right: Lake George. From Stephens, Alex H.� A Comprehensive and Popular History of the United States. Chattanooga: Hickman and Fowler, 1882.
He acquired tens of thousands of acres of land especially in the Indian Territories, and became very wealthy.  He died suddenly of a stroke in 1774, and during the Revolution his vast estates in New York province were forfeited.
Although the vast estates once owned by Sir Peter Warren and Sir William Johnson were lost in the Revolutionary War, the Johnson family maintained important family contacts in New York. It's probably for this reason that Patrick Russell Cruise and his wife Teresa (nee Johnson) decided to settle in New York, after their marriage.