William Kearney was Barack Obama's 5 x great-grandfather. This pedigree chart shows his parents, John and Sarah Kearney (nee Healey), and William's siblings.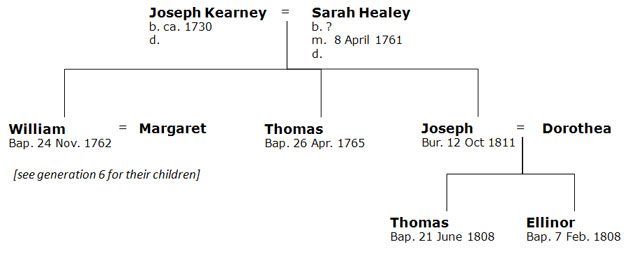 Joseph Kearney
Joseph was probably born circa 1730. He is described as a 'comber, of Shinrone' in a lease dated 1759. He married Sarah Healey 'of Moneygall' on 8 April 1761 in Shinrone Church of Ireland according to the parish register. The couple is also referred to in a marriage licence bond for Killaloe.
William Kearney
William was referred to on a lease dated 1 May 1800 (Minchin to Kearney) as the father of Joseph Kearney, which was cited in a Landed Estates Court document of 1851. William was married to Margaret (maiden name unknown) as evidenced by the birth records of his children. They must have married some time prior to the birth of their first child Joseph in 1794. William was buried in Cullenswarne in 1828.
Thomas Kearney
Thomas was baptised on 26 April 1765, according to the Shinrone Church of Ireland baptismal registers. Nothing else is known about him currently.
Joseph Kearney
Joseph (buried 12 Oct 1811) is referred to as brother of William in the lease dated 1 May 1800 (Minchin to Kearney). It also says that he was 'of Moneygall, buried in Cullenswarne 12 Oct 1811′. We know that Joseph married Dorothea (maiden name unknown) and that they had at least two children: Thomas Kearney (baptised 21 June 1808) and Ellinor Kearney (baptised 7 February 1811).