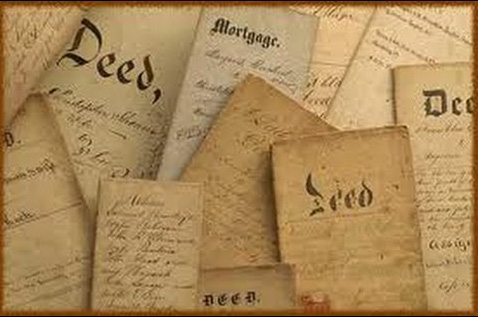 The records of the Registry of Deeds hold a wealth of genealogical information. If your ancestors are fortunate enough to appear in these records, and more do than is commonly believed, they can provide vital familial connections and clues, or bookend years for when persons were resident in a given location.
However, searching these records is not for the faint-hearted and there are numerous challenges to undertaking research in this record set. There are two indexes to these records, the Grantors Index and the Lands Index. This tip deals primarily with the former.
The most common access point to the records of the Registry of Deeds is via Griffith's Valuation or the Valuation Office Cancelled Books records. Both these record sets record the Lessor, Occupier and Townland/Street name. These are the three pieces of information you will need to make the most of searches in the Registry of Deeds records.
The Grantors Index, as the Ronseal marketing department might say, 'does exactly what it says on the tin', i.e. it is an index organised by the surname of the person Granting the property in question.
This brings us to the crux of this research tip. Although you may note in Griffith's Valuation that 'Oliver Occupier' holds his property from 'Laurence Lessor', you may be unable to locate a deed from Lessor to Occupier. There are numerous reasons why this might be the case, including that no deed exists, but here are some other reasons;
'Laurence Lessor' may never have directly granted the property to 'Oliver Occupier', an earlier lease may exist, perhaps to 'Leonard Leaseholder', who in turn passed the lease on, in this situation the deed would be registered as 'Leaseholder to Occupier', rather than 'Lessor to Occupier'.

Another aspect than can affect the Grantors Index is the death of a Lessor, often there can be a flurry of activity in Registry of Deeds records after the death of a Lessor, be they ultimate owner or leaseholder of a property. After their death the Grantors Index may record their beneficiaries name or that of an Executor, rather than the Lessors. For Lessors that died after 1858, the names of Executors can often be gleaned from the Calendar of Wills and Administrations, available online from the National Archive of Ireland website.

& Ors. – This is shorthand often recorded beside a Grantor or Grantee's name and refer to 'others'. If you are struggling to find a grant from the Lessor to the Occupier of interest to you, look out for grants from the same named Lessor to a Grantee with '& ors.', it is possible that your Occupier is included with these 'others'.
By Stephen Peirce