Everyone with an interest in Irish genealogy knows about Griffith's Valuation, a survey of all property in Ireland, to calculate the local tax rates paid towards the Poor Law system.
Griffith's Valuation (1847-64) was the third survey by the Valuation Office to calculate what taxes should be charged. Each of the surveys overlaps in time, but produced a unique set of records.
The Field & House Books [aka Quarto Books] are the records of the earliest survey, which started in 1828 and continued to the mid-1840s.
These records include the following evidence:
The date of the survey
The name of the householder, their townland address, and a description of their property with the valuation settled on.
The name of the landlord.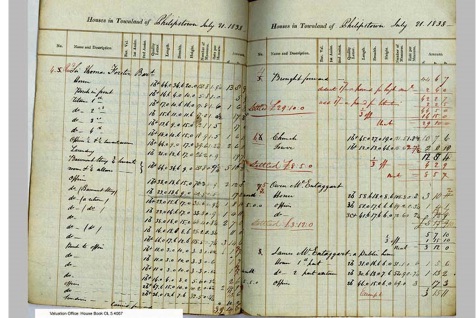 In 1833, Richard Griffith's issued instructions to his surveyors that set the standard for what information was collected. Henceforth, they were required to:
Measure the external walls of buildings (Length x Breadth x Height) for all houses that were included in the House Books, and the occupiers names.
to estimate the age and quality of the Building, using letters and numbers to indicate age, quality & repair
There's great confusion, and much discussion, among genealogists about the 'coded-system' used by Griffith's surveyors, to describe property in the House Books.
IT shouldn't be that difficult, because Griffith issued his own system, reproduced here:
#1.  To indicate a slate roof house of stone or brick with lime mortar
#2.  To indicate a thatch-roof, where the building was of stone or brick with lime morta
#3.  To indicate a thatch-roof, where the building had stone walls with mud mortar or mud walls of the best kind
#4. To indicate a basement stories of a slate-roof house used as dwellings [urban]
New or nearly new
A+ Built or ornamented with cut stone & of superior solidity and finish
A Very substantial building and finish, without cut stone ornament
A- Ordinary building and finish or either of the above when built 20 or 25 years
Medium
B+ Not new, but in sound order and good repair
B Medium age, slightly decayed but in general good repair
B- Medium, deteriorated by age and not in perfect repair
Old
C+ Old but in repair
C Old and out of repair
C- Old and delapidated scarcely habitable
So a building described as being 1 A+ would indicate a house built of cut-stone or brick using lime-mortar, where the build and finish were first-rate and included a slate roof.
Whereas a house described as 1C would indicate a house built of stone or brick, using lime mortar, and with a slate-roof, but where the house was old and out of repair.
Caveat: Surveys were completed by a visual inspection, and can be very subjective –beauty is in the eye of the beholder after all. In my experience there are many instances where the grandeur of a house may be worn down over time. This is particularly the case where houses were not the primary residence, but a town-house, hunting lodge or a 'rus-in-urbe' country house nearby the city.
In my own research I've assisted in recovering the knowledge of some such houses, including one with an intriguing connection to Dean Swift, but that's a story for another day! FF.