A common phenomenon with those of us that are engaged in genealogical research is that; after the initial relentless pursuit of the line(s) of descent, focus often switches to trying to learn more about our ancestors. To put flesh on the bones and get a better sense of what they were like (physical attributes, etc.) and what their life was like (occupation, area they lived, etc.).
There are many sources one can use to glean such information. For aspects relating to the lives people lived; occupations are recorded on most marriage and deaths certificates, as well as father's occupation on birth certificates. Marriage certificates also record the occupation of the fathers of the marrying parties. More information about the place and conditions in which people lived can be accessed on the Form B1s for the 1901/1911 Irish Censuses. Various other sources can offer accounts of specific places at a given time (e.g. Samuel Lewis' 1837 Topographical Dictionary of Ireland – https://www.libraryireland.com/topog/, local newspapers, etc.)
In terms of the learning about what our ancestors actually looked like, physical descriptions appear in many record sources; passenger lists, military, prison, petty session, etc. Some later U.S. naturalisation papers will actually include photographs. Census returns too also sometimes record disabilities/infirmities.
However, as the record below, which I identified recently suggests, clearly what can potentially disqualify one from military service has changed somewhat over the years!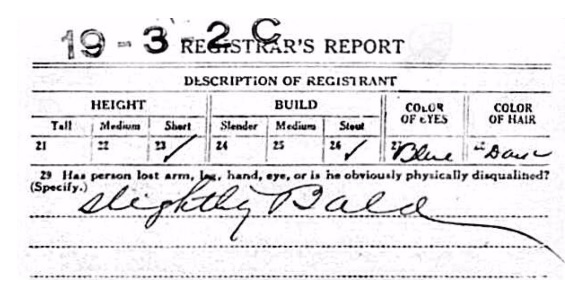 By Research Expert