In researching a family on Census returns recently I came across an interesting anomaly. To protect the anonymity of the family involved I have changed the details in the example below, but the point remains the same.
Having identified the family on the 1901 Census, parents and 4 young children, I noted that by 1911 two of the children, in their mid and late teens respectively, were absent. Nothing too strange there. Often children can be with a relative, in a boarding school or working.
However, what intrigued me about this case was where they were. The bulk of the family were at home in Co. Antrim, but the two boys were in Waterford!
This set me to thinking (procrastinating), if this family are doing something seemingly out of the ordinary, how many others are? Quite a few as it turns out.
The figures below are taken from the Census of 1911 (www.census.nationalatchives.ie).
For instance, there are 29 persons enumerated in Kerry that record their county of origin as Co. Down (the search result actually returns 33 entries, but on closer inspection 2 are from Co. Devon, England and 2 from a townland called Down, in Kerry).
Most of these internal migrants can possibly be explained by their professions (inc. teachers (2), commercial travellers (3), coast guards (2), lighthouse keeper (1), etc), but there are also servants (domestic and farm), a carpenter and a clerk, amongst others.
Driven by intrigue I set myself a task, I picked what I believed to be the county with the smallest population (at least currently), Leitrim, and set about establishing what other areas the good people of Leitrim populated. Below are the top 5 counties with the most, and the fewest;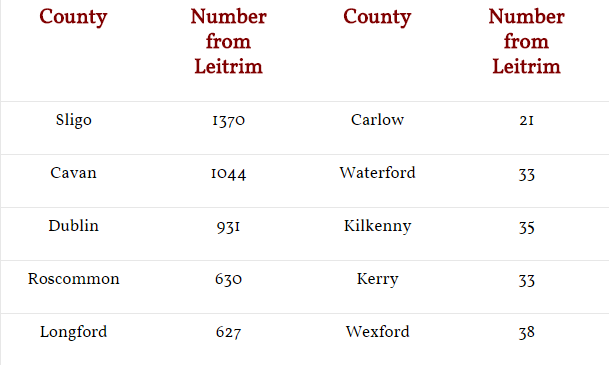 What do we learn from the above (aside from the fact that I need to get out more)? Well, if you're looking for your missing Leitrim ancestors on the 1911 Census, they're probably not in Carlow!
It also clearly demonstrates that in this instance, geographic location is a major factor, along with the pull of urban Dublin.
In a broader sense, it teaches us that whatever the scale, internal migration existed and should not be ignored when looking for lost ancestors.
The one caveat with the above, and with any research to do with the Censuses, is that they are of course merely a snap-shot in time. Which proved to be the case with the family I was tracing, who returned to their home county shortly after the Census.
P.S. For those of you interested, the lowest number of individuals from one county in another county I identified during my searches was the 6 people from Co. Londonderry enumerated in Co. Carlow. Including a teacher, a priest and a butler, I'm sure there's a joke in there somewhere!
By Stephen Peirce,
Research Expert